Winner Best Entertainment: Fringe Report
theatre


Producer

Oliver Lansley

Director

Oliver Lansley

Starring
Rachel Dawson
Judi Dench
Tomas Gisby
Matthew Ian Kelly

Pleasance Courtyard, Edinburgh
Multi-award winning show based upon a series of twisted tales by Oli. Presented using puppetry, live music, story telling and physicality with narration by Dame Judi Dench.
Meet Tumb, the boy who eats his mum; Beatrice, the girl with a bee in her bonnet; Thingummyboy, with a face even hsi mother forgets; little Linena, the material girl; Manky Mingus and little Tilly with her terrible tail.
The Terrible Infants opened at the Edinburgh Festival 2007 and has since toured internationally.
Media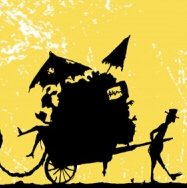 Reviews
like giving your inner child an enormous sack of sweets ... deliciously dark and very twisted
Mark Powell
Metro
captivating ... taking the spirit of Struwwelpeter, Edward Gorey and Roald Dahl screeching and laughing into the 21st century
Nick Awde
The Stage