theatre


Producer

Oliver Lansley

Director

Elgiva Field, James Seager

Starring
Marcus Ellard
Keith Hill
Catriona MacKenzie
Philip Oakland

Charing Cross Theatre
Les Enfants Terribles present a night at The Empire music hall. However, tonight's show will be a little different as Charlie, the owner, has fallen victim to a murder most foul.
Could it be the nervy knife thrower, the sexy siamese triplets, the deranged ventriloquist, the macarbre mime artist or the mystifying magician? Everyone's a suspect as we explore the weird and wonderful acts that make up The Empire's show bill.
Media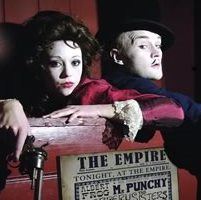 Reviews
Les Enfants Terribles are unique and deserve...to go and fill the shoes of such ground breaking outfits as Theatre de Complicite, stimulating audiences for years to come
Mark Freeland, Head of BBC Comedy
truly exceptional ... a mesmerizing acoustic production ... the dark comedy tone, superb alliterative narration ... and an engaging storyline that combines elements of the macabre, humour, murder-mystery and a plethora of plot twists combines to create a production that is fitting for its grand stage
Nick Eardley
Fest Mag
a marvel worthy of the Victorian music hall ... a gloriously over-the-top gothic musical ... Each is a strong singer and charater actor, with Oliver Lansley as The Compere particularly impressive
Edinburgh Spotlight
Lansley is, as usual, majestic ... a master of comic timing and flawless delivery ... a superlative production from the best theatre group to ever grace the Edinburgh Fringe. Celebrating their tenth year, LET has surpassed its own excellent standards, making The Vaudevillains perfect in every possible way
Adrian G. Velazquez
Hairline
This is a perfect miniature musical....The show feels descended from the Sondheim of Sweeney Todd, its humour dark but invigorating; the violence is kept on a cheerful Hallowe'en-ish level and framed in affection for a time when music hall aimed to amuse working people at the end of a hard week...as twisted as barley-sugar...Undemanding pleasure all the way.... words fail me
Libby Purves
The Times
Its deliciously grisly sensibility is cohesively realised through inventive staging, beautiful costumes and design, lusty performances and rollicking music. They should make a killing
Ben Walters
Time Out
Les Enfants Terribles Vaudevillains is good macabre fun, has the makings of cult fringe show
Lyn Gardner
What is apparent throughout this all-singing, all-killing romp is the joy of the artistry behind it. The creators have fastidiously presented a beautiful and grotesque little music box for us... solidifies this company as one that is worthy of a watch indeed
London Festival Fringe