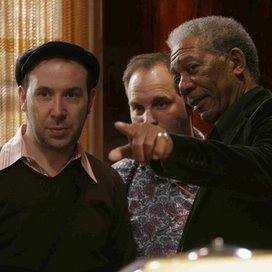 Paul McGuigan
Director for film and television
Biography
Paul spent ten years working as a professional photographer for the fashion and music press before becoming a film and television director. His first feature, the television adaptation of Irvine Welsh's The Acid House, put him squarely on the map, winning him the RTS Award for Best Newcomer along with the RTS Award for Best Single Drama and a host of other prizes.
Paul followed The Acid House with a string of acclaimed features and counts among his credits such films as Push, Lucky Number Slevin and Gangster No.1.
Paul's television work includes many successful dramas and documentaries, including Sherlock for BBC/Hartswood, which Paul set-up and directed across two series of the multi award-winning show, and more recently Marvel's Luke Cage, and new pilot Designated Survivor: both for ABC/Netflix.

Paul recently finished his new feature Film Stars Don't Die In Liverpool, which stars Annette Bening and Jamie Bell.
CV
Other
Director
Released as the second single from their third album, Final Straw.
From Snow Patrol's fourth album, Eyes Open, featuring Martha Wainwright on vocals.
Spider-Man becomes a school play in this music video for Signal Fire from popular alternative rockers Snow Patrol, from the Spider-Man 3 soundtrack.