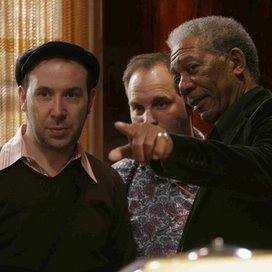 Paul


McGuigan

Director for film and television
Paul spent ten years working as a professional photographer for the fashion and music press before becoming a film and television director. His first feature, the television adaptation of Irvine Welsh's The Acid House, put him squarely on the map, winning him the RTS Award for Best Newcomer along with the RTS Award for Best Single Drama and a host of other prizes.
Paul followed The Acid House with a string of acclaimed features and counts among his credits such films as Push, Lucky Number Slevin and Gangster No.1. Paul's feature Film Stars Don't Die In Liverpool, which stars Annette Bening and Jamie Bell was released in 2017 to great reviews.

Paul's television work includes critically and commercially successful dramas Sherlock for BBC/Hartswood, which Paul set-up and directed across two series of the multi award-winning show, and more recently Marvel's Luke Cage, and Designated Survivor: both for ABC/Netflix, and new ABC pilot The Gospel of Kevin, which was picked up for series.
Film
Director
Starring
Jamie Bell
Annette Bening
Stephen Graham
Julie Walters
Starring
Jessica Brown Findlay
James McAvoy
Daniel Radcliffe
Andrew Scott
Feature film based on Mary Shelley's novel
Twentieth Century Fox Film Corporation
Starring
Camilla Belle
Chris Evans
Dakota Fanning
Djimon Hounsou
A group of young American ex-pats with telekinetic and clairvoyant abilities are hiding from a clandestine U.S. government agency. They must utilise their different talents and band together for a final job enabling them to escape the agency forever.
Producer
Christopher Eberts
Starring
Morgan Freeman
Josh Hartnett
Sir Ben Kingsley
Lucy Liu
A case of mistaken identity lands Slevin in the middle of a war being plotted by two of New York's most powerful rival crime bosses.
Metro-Goldwyn-Mayer (MGM)
Starring
Rose Byrne
Josh Hartnett
Diane Kruger
Matthew Lilliard
A young Chicago advertising executive believes a woman he sees in a café is his long-lost love. His conviction leads to obsession, as he puts his life on hold to trail her.
Lakeshore International
Metro-Goldwyn-Mayer (MGM)
Starring
Paul Bettany
Vincent Cassel
Willem Defoe
Tom Hardy
A priest on the lam takes up with a traveling band of actors, who then discover a murder has occurred and try to solve it by recreating the crime in a play.
Producer
Jonathan Cavendish
Starring
Paul Bettany
Malcolm McDowell
David Thewlis
Chronicles the rise and fall of a prominent, and particularly ruthless English gangster.
The Acid House
Winner - 1999 Royal Television Society best Single Drama and Best Newcomer
Three twisted tales of abuse, drugs, displaced personalities and insect life by Scottish writer Irving Welsh.
Television
Director
Writer
Tara Butters and Michele Fazekas
Starring
Jason Ritter
Writer
Derek R. Griffith and David Guggenheim
Starring
Kiefer Sutherland
Creator
Cheo Hodari Coker
Starring
Mike Colter
Mahershala Ali
Frankie Faison
Darius Caleb
Marvel's action hero series
Starring
Joan Allen
Rupert Graves
Zach Gilford
Liam James
ABC Studios/Mandeville Productions
Writer
Jason Richman and David Zabel
Starring
Summer Bishil
Christine Evangelista
Stephen Louis Grush
Pilot
Producer
Mark H. Ovitz and Brian Tanen
Starring
Debra Messing
Brian D'Arcy James
Anjelica Huston
Katharine McPhee
Universal Media Studios/Dreamworks Television
for
NBC
Creator
Steven Moffat & Mark Gatiss
Starring
Benedict Cumberbatch
Martin Freeman
Follow up to the BAFTA-winning first series, with Benedict Cumberbatch and Martin Freeman reprising their roles as Sherlock Holmes and Dr. Watson respectively.
Starring
Kerry Washington
Tony Goldwyn
Columbus Short
Henry Ian Cusick
Drama revolving around the life and work of a professional crisis manager and her dysfunctional staff, from the creator and executive producers of Grey's Anatomy and Private Practice.
Starring
James Nesbitt
Sarah Parish
Tom Riley
Director of the first three episodes of medical drama series about a brilliant and unconventional neurosurgeon.
10 minute cinema commercial. 12 x 15 TVC and 40 minute documentary of behind the scenes.
Umbrella Productions
for
Channel 4
Pilot Productions
for
Channel 4
Travel documentary which includes an interview with Fidel Castro.
Documentary about sectarianism in Scotland.
Wark Clements
for
Channel 4
Documentary film about American children living with HIV and AIDS.
Wark Clements
for
Channel 4
Director of the Pilot for critically accliamed FX television mini-series.
Regency Television
for
FX Network
Sherlock
Winner: BAFTA Television Awards 2011 - Best Drama Series
3 x 90'
Starring
Benedict Cumberbatch
Martin Freeman
BAFTA-winning drama series. Thrilling, fast paced update of Arthur Conan Doyle's classic detective, set in present day London.
Producer
Sue Vertue and Ben Irving
Starring
David Tennant
Dolly Wells
Lydia West
Stanley Tucci
Other
Director
Released as the second single from their third album, Final Straw.
From Snow Patrol's fourth album, Eyes Open, featuring Martha Wainwright on vocals.
Spider-Man becomes a school play in this music video for Signal Fire from popular alternative rockers Snow Patrol, from the Spider-Man 3 soundtrack.
"One of the biggest audience-pleasers at this year'sTelluride Film Festival"
Stephen Farber
on Film Stars Don't Die In Liverpool
"A tremendous central duo breathe life into Paul McGuigan's endearing retelling of the real-life romance between a struggling young actor and Oscar-winner Gloria Grahame… Director Paul McGuigan finds the balance between pathos and humour."
Peter Bradshaw
on Film Stars Don't Die In Liverpool