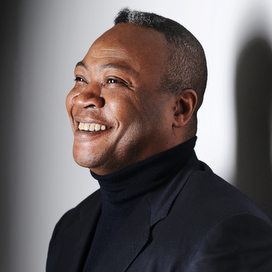 Rene Carayol
Factual entertainment and business presenter and non-fiction writer.
Biography
Rene Carayol is one of the world's leading business gurus. He specialises in leadership and culture, drawing from his own unique experiences on the Boards of British and American organisations; from Pepsi (UK) to IPC Media and the Inland Revenue. He is the best selling author of the leadership and culture bible Corporate Voodoo and a Visiting Professor at Cass Business School. In 2004 he was awarded an MBE for outstanding service to the business community.
Rene is a regular broadcaster for the BBC and has presented the influential Pay Off Your Mortgage In 2 Years series, BBC2's flagship business programme The Money Programme and the critically acclaimed Mind Of A Millionaire and Man From The Met documentaries. He is a broadsheet columnist, a frequent voice on Radio 5 Live and a regular expert commentator on Sky News and BBC Breakfast.
Rene is now CEO of the Inspired Leaders Network with operations in London, Belfast and Johannesburg and has provided leadership support to the likes of the Prime Minister s Strategy Unit, the Home Office and McKinsey and Co.
With this unrivalled business acumen, he chairs and addresses international conferences and has had the privilege of interviewing and working closely with some of the world's greatest leaders; from former US President Bill Clinton to the seventh Secretary General of the United Nations Kofi Annan and from former US Secretary of State Colin Powell to Virgin boss Sir Richard Branson.