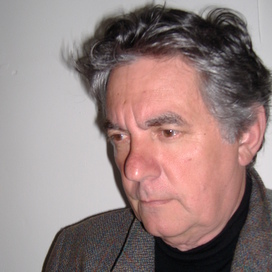 Richard


Cameron

Playwright and writer for television
Richard Cameron writes for theatre, television and radio, and won the inaugural Dennis Potter Award in 1997 for his television play Stone, Scissors, Paper, and the Mental Health in Media Award for his radio play, The Kon Tiki 2 Expedition.
Richard has written a number of critically acclaimed stage plays, including Can't Stand Up For Falling Down, which won a Fringe First and The Independent Theatre Award, and The Glee Club for The Bush Theatre, which transferred to the West End before a national tour and was adapted as a radio play for Radio 4. He has also won The Sunday Times Playwriting Award three times and was the Thames Television Writer in Residence at The West Yorkshire Playhouse.
Most of Richard's work is set in South Yorkshire, where he lives, but now and again he ventures out. Great Balls of Fire, the story of Jerry Lee Lewis, was produced for Belgrade Theatre, Coventry, and transferred to the West End. He has also written an episode of Midsomer Murders and in 2011 Richard adapted Silas Marner for the Radio 4 classic serial.


Theatre
Writer
Starring
Anna Bradley
Daniel Carter
Jasmin Melissa Hylton
Maggie McGuire Smith
Alice McGowan
Adaptation of Jonathan Coe's novel
Birmingham Repertory Theatre
Starring
Jessica Ellis
Stephen Aintree
Augustina Seymour
Nicky Goldie
Louise Yates
Starring
Mike Burns
Lorraine Chase
Dome at George Street, Edinburgh
Starring
Leanne Best
Sharon Duncan-Brewster
Alan Morrissey
Edward Peel
Play set in a rehabilitation centre where four people re-enact an epic journey made along the canals in World War II
Director
Jenny Sealey & Pete Rowe
Starring
Lynne Goddard
Karina Jones
Nicola Miles-Wildin
Sophie Partridge
Play about a group of disabled women who live and work at The Crippleage
Starring
Peter Bramhill
Anita Carey
Burn Gorman
Rory Jennings
Play about a teenage boy spending the summer with his aunt and uncle
Starring
David Bamber
Mark Drewry
James Hornby
Oliver Jackson
Play about a group of amateur singers preparing for a local gala
Starring
Eddie Burton
Billy Geraghty
Heather-Jay Jones
Patrick Pearson
Biomusical about Jerry Lee Lewis
Starring
Marion Bailey
Anne Carroll
Andrew Dunn
Roy North
Family drama and mystery set in a small northern village
Play about the life of a band leader
Belgrade Theatre, Coventry
Part of National Theatre Connections. Play about how three friends from Yorkshire are affected by a tragic accident
Starring
Suzanne Hitchmough
Denzil Kilvington
Play about a man attempting to break the record for non-stop drumming
Play about a family scraping together dignity in the face of hopeless circumstances
Birmingham Repertory Theatre
Starring
Kelly Hunter
Neal Swettenham
Drama about a young woman with multiple personality disorder
Starring
Lyndon Davies
Joe Duttine
James Hooton
Paul Mccready
Play about a group of traumatised teenagers
Interweaving monologues about how a group of women have been affected by violence. Winner of the Independent Theatre Award
Edinburgh Festival and transfer to Hampstead Theatre
Play about a family struggling to heal itself
Play about a group of young people with learning difficulties who raise money to help their friend. Winner of The Sunday Times Playwriting Award
Play set in a home for children in care. Winner of The Sunday Times Playwriting Award
National Student Drama Festival
Director
Producer
Craven Image Theatre
Starring
Louise Templeton
Play about a woman who's husband becomes addicted to pornography
Television
Writer
Director
Richard Holthouse
Starring
John Hopkins
Laura Howard
Barry Jackson
John Nettles
Bentley Productions
for
ITV1
Starring
Katie Blake
Peter Davison
Barbara Flynn
Sean Maguire
Director
Stephen Whittaker
Starring
Juliet Stevenson
Ken Stott