Crazy River: Exploration, Misadventure and Folly in East Africa
book
Non-Fiction
US Free Press
UK & Comm Little, Brown & Company
For twenty years, Richard Grant collected journals and biographies of explorers, fascinated by these men who set off to understand other cultures and, almost inevitably, irrevocably change them. What were these places like before men came in with charts and journals? Grant thought this interest would be limited to reading the tales of others, but in 2006 he discovered a river in Africa that had yet to be explored: the Malagarasi River, the second longest river in Tanzania which eventually led to the source of the Nile. This was his chance to write his own adventure.

With a couple of books, a few somewhat inaccurate maps and a cursory knowledge of Swahili, Grant set out to conquer the Malagarasi. This book is the story of what happened next, the journey that emerged when his ill-laid plans collided with African reality in all its messy, complicated, unpredictable glory. And while the voyage wasn't an unmitigated success, and while perhaps too much time was spent in bars and nightclubs, this is a true, old-fashioned adventure story at its best. Because what could be more dull and pointless than an expedition that achieved all its goals, ignored passing distractions, and went exactly according to plan?
Rights
Audio Rights
Available
The audio rights are handled by Alice Lutyens.
Melissa Pimentel manages the translation rights for Crazy River: Exploration, Misadventure and Folly in East Africa
Film Rights
Available
Contact Nick Marston for more information
Translation Rights Sold
German
World
Piper Verlag
Italian
World
Neri Pozza Editore
Media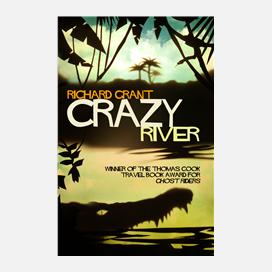 Reviews

Dyspeptic, disturbing and brilliantly realized, Grant's account of Africa is literally unforgettable. Starred Review
Kirkus Reviews Full Review

It's Grant's gift for getting detoured that leads him to the most danger and makes this one of the year's most surprising adventure books, taking us well beyond jungle and river.
Men's Health

Heading for Tanzania, intent on exploration- a first descent of the Malagarasi River-, Richard Grant instead finds himself in the shadow of Burton and Speke, Stanley and Livingston on an altogether unexpected frontier of the unknown- the reality of contemporary Africa. The result is a kaleidoscopic romp through chaos, contradiction, madness and wonder. A fierce account, honestly told, and refreshingly frank. Wade Davis
author of One River and Into the Silence

In his last book when he was being chased by killers in Mexico for a couple days I questioned Richard Grant's sanity in trying to be the first to travel the length of Tanzania's Malagarasi River. The hippos and crocodiles are the problem, also the dreadful diseases that daily afflict you. This is a truly wonderful book about East Africa. Jim Harrison
author of Returning to Earth

Way back when, we crawled out of the Great Rift in Africa. Richard Grant explains that this ancient womb is the theater of our future. This coming world will have a lot of people fighting over dwindling piles of junk. This future will looks a lot like murder. This time we are all going down Crazy River and forget the damn life jackets. They belong to the past we devoured. Let Richard Grant take you to your new home. But let me warn you: we will not get home before dark. Charles Bowden
author of Murder City

As he did in God's Middle Finger, Grant takes us into a world where few willingly venture. His feverish journey from Zanzibar, down an uncharted river and into the broken heart of 21st century Africa is by turns funny, poignant, frightening and deeply disturbing. The future Grant shows us with such lucidity and compassion is one his predecessors, Stanley, Livingstone and Burton could never have envisioned. John Vaillant
author of The Tiger: A True Story of Vengeance and Survival

A mixture of offbeat characters and travelogue, an entertaining and informative first-person account of a man who's very much out of his element but very keen to learn everything he can.
Booklist

Armchair explorers, rejoice! Richard Grant has gone where we dare not and brought back the news in all its rich, harrowing and lucid detail. The best book about Africa since Paul Theroux's Dark Star Safari. T.C. Boyle


Grant strikes a wonderful balance between evoking the sepia-toned, blood-stained, imperialist past and the hungry, gritty independent realism of modern East Africa. Never one to focus on his own accomplishments, and slow to judge others, he manages to serve up equal portions of humility and pathos. Steve Waters
Lonely Planet

[Grant] strikes a wonderful balance between evoking the sepia-toned, blood-stained, imperialist past and the hungry, gritty independent realism of modern East Africa.

Lonely Planet