book
| Non-Fiction
| 2012
Listen to me,' my mother says. 'They've let off an atom bomb today. Right here in W.A. Atom bombs worry the blazes out of me, and I want you at home.'
In the sleepy and conservative 1950s the British began a series of nuclear tests in the Montebello archipelago off the west coast of Australia. Even today, few people know about the three huge atom bombs that were detonated there, but they lodged in the consciousness of the young Robert Drewe and would linger with him for years to come.
In this moving sequel to The Shark Net, and with his characteristic frankness, humour and cinematic imagery, Drewe travels to the Montebellos to visit the territory that has held his imagination since childhood. He soon finds himself overtaken by memories and reflections on his own 'islomania'. In the aftermath of both man-made and natural events that have left a permanent mark on the Australian landscape and psyche – from nuclear tests and the mining boom to shark attacks along the coast – Drewe examines how comfortable and familiar terrain can quickly become a site of danger, and how regeneration and love can emerge from chaos and loss.
Rights
Kate Cooper manages the translation rights for Montebello
Media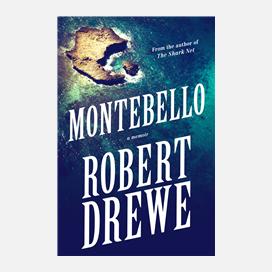 Reviews
Montebello is a beautifully crafted book. It switches effortlessly between travel literature, reportage, local history, nature writing and film and literature criticism... This dazzling memoir is a perfectly integrated work of art. Drewe's literary instincts are as impeccable as his ear for the English language is unfaltering, and his latest memoir has all the more force for being set down with such a delicate hand.
Richard King
The Australian
Montebello is at heart a moving and profound love story. This is a splendid memoir with many moods – delicate, tough, ironic, compassionate – that are beautifully controlled and paced.
Brian Matthews
Australian Book Review
Drewe is a born raconteur: brilliantly funny, debonair, a larrikin and a rake…This memoir works such sweet and poignant charm. On sharks, parents and childhood pleasures, Drewe is the nation's undisputed laureate.
Catherine Ford
The Monthly
Clear, unadorned, cool, sardonic, penetrating, incisive…The atmosphere this riveting memoir evokes is so vivid and visceral you can almost feel the fine white sand between your toes and the ferocity of the sun.
Caroline Baum
Booktopia
Montebello is imaginative Australian storytelling at its best, a worthy sequel to the wonderfully evocative The Shark Net by a man who is undoubtedly one of Australia's greatest living writers.
Rob Minshull
Weekend Bookworm, ABC