theatre
Role Lloyd Dallas Old Vic/ Novello Theatre
First performed in 1982 and subsequent winner of the Olivier and Evening Standard Awards for Best Comedy, Noises Off follows the back and onstage trials of a company of rep actors trying desperately to negotiate their way through rehearsals fraught with an undercurrent of personal issues and culminating in a truly unhinged performance at the end of their tortured tour.
Robert Glenister plays Lloyd Dallas, the director of the production who is trying in vain to steer the ship (hampered somewhat by his emotional 'involvement' with some of the cast).
Media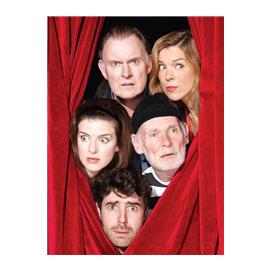 Reviews
Most noteworthy, given how difficult the text's prescriptiveness makes individual interpretation, is Robert Glenister's director Lloyd Dallas. Usually a sympathetic sane-man drowning in idiots, Glenister makes him a spiteful, snarling failure and adds some rare fight to Frayn's delirious froth.
Matt Trueman
Whatsonstage.com