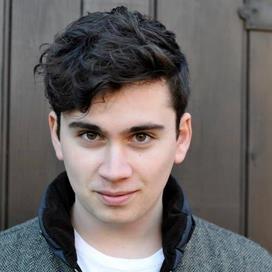 Sam


Stern

Food presenter for television and non-fiction writer.
Sam Stern is the leading cookery writer of his generation, aged just 25 he already has seven cook books to his name.
His first Cooking Up A Storm (produced in collaboration with is mother) was written when he was 14 and has been translated into 14 languages and is an international best seller. Real Food Real Fast (2006), Get Cooking (2007), Sam Stern's Student Cookbook (2008) and Eat Vegetarian (2010) were published to critical acclaim as he studied for GCSEs and A levels.
Sam's conviction that every meal has to deserve to be eaten, his love for good food and his huge passion for cooking have persuaded thousands of young people (and their families) to start doing it for themselves. And it doesn't stop there. Sam Stern's contemporary masterclass for teens and young adults Virgin to Veteran: How to Get Cooking with Confidence was published in May 2012.
Sam has featured regularly in the media, with appearances on Blue Peter, Newsround, BBC Radio, BBC Breakfast, ITV Calendar News and This Morning, and has contributed to newspapers and magazines such as Yorkshire Life Magazine, Teen Vogue, The School Food Trust, Hello and OK. He has also been featured in articles throughout the UK, US, Germany, France and the Netherlands. Career highlights include a media tour of the US, including a live appearance on The Today Show, and presenting an award at The Children's Baftas.

Recently Sam has been involved in Eat Up a new series on videojug.com taking viewers through some quick and tasty recipes that are easy to make and show you don't have to splash out to make a great meal. Sam's future plans include visiting China and learn to cook his favourite Chinese food from the masters; to convert a barn at his home in Yorkshire into a media centre/cookery school and in the meantime to keep writing, cooking and eating. Watch this space.
Sam Stern Showreel Virgin to Veteran - How to Get Cooking with Confidence
Sam Stern Showreel Virgin to Veteran - How to Get Cooking with Confidence
See all Videos →
I'm in the @Telegraph today with @mobkitchenuk talking all things student food: https://t.co/JTmoSMeptA
Follow @sam_stern
Sam Stern has got the balance between effort, expense and occasion just right.

Sleeve on Virgin to Veteran - How to Get Cooking with Confidence