book
| Fiction
| Jul 2015
UK & Comm →
Simon & Schuster
(Ed. Suzanne Baboneau)
Songs of Love and War is the first part of The Deverill Chronicles, which follows the Deverill family for one hundred years.

Their lives were mapped out ahead of them. But love and war will change everything…

West Cork, Ireland, 1900. The year marks the start of a new century, and the birth of three very different women: Kitty Deverill, the flame-haired Anglo-Irish daughter of the castle, Bridie Doyle, the daughter of the Irish cook and Celia Deverill, Kitty's flamboyant English cousin.

Together they grow up in the dreamy grounds of the family's grand estate, Castle Deverill. Yet their peaceful way of life is threatened when Ireland's struggle for independence reaches their isolated part of the country.

A bastion of British supremacy, the castle itself is in danger of destruction as the war closes in around it, and Kitty, in love with the rebel Jack O'Leary and enflamed by her own sense of patriotism, is torn between loyalty to her Anglo-Irish family and her deep love of Ireland and Jack.

Wrenched apart by betrayal, their world turned to ash, the girls' friendship seems all but lost as they are swept to different parts of the globe. Yet, they have one thing in common: a fierce and unwavering longing for Castle Deverill and all the memories contained within it.

Rights
Katie McGowan manages the translation rights for Songs of Love and War
Translation Rights Sold
Dutch
World
Meulenhoff Boekerij
Hungarian
World
Muvelt Nep Konyvkiado
Lithuanian
World
Alma Littera Publishers
Norwegian
World
Bastion Forlag
Polish
World
Swiat Ksiazki
Romanian
World
Grup Media Litera
Russian
World
Hemiro Limited
Spanish
World
Ediciones Urano
Swedish
World
Bokförlaget Polaris
Media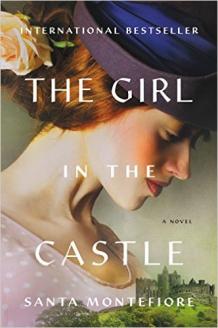 Reviews
A Literary Vacation : TLC Book Tours: Review of The Girl in the Castle by Santa Montefiore
​'A powerful story of love, loyalty, and friendship, The Girl in the Castle is an exquisitely written novel set against the magical, captivating landscape of Ireland. [...] The Girl in the Castle is everything I love about historical fiction!'
Colleen Turner, A Literary Vacation blog
Secrets abound, friendships are fractured, and life-altering decisions are made in a delicious read that leaves the reader hungry and eagerly awaiting the next course.
Booklist Review (starred)
Full Review
Montefiore's compelling family saga, the first in a trilogy, is highly recommended, particularly for lovers of Irish fiction and/or stories of World War One and the 1920s, as well as those who enjoy novels about the enduring power of women's friendships.
Library Journal (starred review)
It's a novel that compels readers with its quick pace and multidimensional characters whose loves and loyalties are continually tested. Montefiore beautifully evokes the atmosphere of the country from WW1 to the fight for Home Rule through her characters' tangled lives and passions as well as the land and the castle itself. The novel is at times tender, yet beautifully sad, and then tense and gripping, leaving much for readers to wonder about at the end.
RT Book Reviews