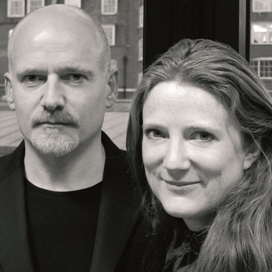 Biography
SJ Courtenay is the pseudonym for the husband-and-wife writing team of Jon Courtenay Grimwood and
Sam Baker
. Jon has twice won the BSFA Award for Best Novel while Sam Baker has recently published
To My Best Friends
, which Grazia hailed as "an emotional, life-affirming novel about the power of female friendships."
A Dangerous Woman
is their first novel together. It is a darkly gothic tale of how a young ambitious woman trapped in the social restrictions of 1850s England, forms an unlikely partnership with a marooned sailor on the run. Together they uncover dark secrets from the Andover Workhouse.
Jon Courtenay Grimwood has written for The Times, The Telegraph and The Independent, and for five years he wrote a monthly review column for the Guardian. He also writes novels, and the third of his series featuring Asraf Bey, a half-Berber detective, won the BSFA Award for Best Novel. A standalone,
End of the World Blues
, about a British sniper on the run from Iraq and running an Irish bar in Tokyo, also won the BSFA Award for Best Novel. He is currently working on a set of novels set in an alternate 15th-century Venice.
Sam Baker is editor in chief of Red magazine and the bestselling author of four novels including
The Stepmother's Support Group
and Fashion Victim. Her latest novel,
To My Best Friends,
was published by HarperCollins in May 2011.