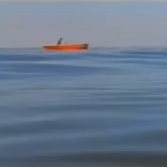 Sophie Goodhart
Director and Writer for film and television
Biography
Sophie Goodhart is a writer and director for film and television. Her short film My Blind Brother was nominated for a Palme D'Or at Cannes and shortlisted for an Academy Award. The feature adaptation featuring Adam Scott (The Secret Life of Walter Mitty), Jenny Slate (Obvious Child) and Nick Kroll (The League, Date Night) premiered at South by South West, winning the Gamechanger Award (review here) and selling to Starz.
Sophie's films have played at sixteen international festivals including Cannes Film Festival, the London Film Festival, Melbourne Film Festival, and the First Run Film Festival. Her co-written film The Locksmith was the winner of the Next Award at Sundance. Her feature film The Last Ones is currently in development with Weed Road Pictures and Safehouse Pictures.
CV
Film
Writer & Director
Producer
Tyler Davidson, Tory Tunnell
Starring
Adam Scott
Jenny Slate
Nick Kroll
Feature adaptation of Sophie's award winning short film. The rivalry between two brothers reaches a fever pitch during a charity swim competition.
Low Spark Films and Think Media Studios

A short film made by Sophie at NYU about a man with a fear of flying
Producer
Sophie Goodhart, Dorothy Williams
Starring
Marsha Dietlein Bennett
Maria Hansen
Tony Hale
John Mattey
Short film written, directed and produced by Sophie Goodhart about sibling rivalry. Sophie also co produced the short.
Writer
Producer
Brad Barnes, Todd Barnes, Mike Landry, Carlos Velazquez
Director
Brad Barnes, Todd Barnes
Starring
Grey Damon
Bella Dayne
Stephen Dorff
Producer
Brad Barnes & Todd Barnes
Director
Brad Barnes & Todd Barnes
Starring
Cesar De Leon
Mary Beth Piel
Stephen Rannazzisi
Ana Reeder
Sophie co-wrote this romantic comedy about an ex-con on work release as a locksmith becoming embroiled in a the complicated love life of a client
First Look International
Spare Key Productions

Director & Producer
Homers
Winner 2000 Docfest Prize
Award winning short documentary about WWII veterans and the pigeons they love