Child Sex Trafficking: Stacey Dooley Investigates
tv
Production Company Ricochet Broadcaster BBC3
Stacey Dooley travels to Cambodia, where an estimated third of the country's 80,000 sex workers are under 18, to investigate under-age sex trafficking.

Beginning her journey in the capital's red light district, Stacey sees how youngsters are paraded in front of local Cambodian men in the capital's bars, and after meeting a young girl who was trafficked when she was just 12 years old, Stacey accompanies the now 18 year old on a trip back to the street brothels and gangland areas where sex is the only commodity that's recognised.

Stacey sees firsthand how poverty is driving adults to sell their own children into this disturbing underworld, from which it is hard to recover. But she also sees how, with the help of charity workers, that it is possible for these girls to lift themselves out of the mire and start a new life.

Media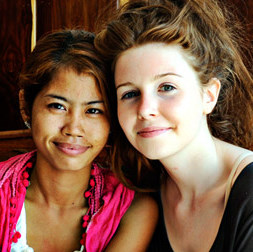 Reviews

She's totally charming, her fresh-faced enthusiasm as emphatic a foil to the blank-eyed despair of Phnom Penh's working girls as ever. Alice-Azania Jarvis
Independent