Kids with Guns: Stacey Dooley Investigates
tv


Producer

Fiona Lloyd-Davies

Director

Fiona Lloyd-Davies

Production Company Ricochet Broadcaster BBC3
With an estimated 30,000 children used as soldiers during the 14-year long conflict in the Democratic Republic of Congo, Stacey travels to Africa to explore firsthand the terrifying complexities of war for the country's child soldiers.
With the help of local charity workers, Stacey meets children who have been enslaved by armed militias and hears their personal accounts of life as a child soldier. She also visits a rescue centre where boys and girls arrive daily, rescued from guerrilla militia units as well as the Congolese National Army.
Accompanying a local charity she goes to a frontline Congolese National Army camp where she witnesses the rescue of two boys and goes on to take one boy home where he's reunited with his family, from whom he was stolen more than eight years ago.
Kids with Guns will air on the 7th of October at 9pm on BBC3.
Media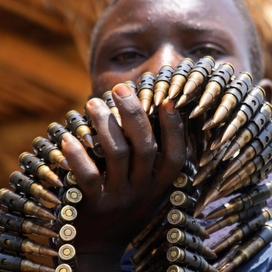 Reviews

Stacey Dooley is a TV phenomenon, a non-journalist who produces better journalism than many journalists. Andrew Billen
The Times

What Stacey does very well is the human angle, and it's her ordinariness that makes her a natural in front of the camera; when she cries (which she does frequently) at the things she's seeing, she is unselfconsciously affecting. When celebs do the same for their filmbites for Comic Relief, they just manage to look self-indulgent and annoying. John Grace
Guardian

His commanders used to force him to drink the blood of the enemy, he said, telling him it would give him "magical powers". By the end of the programme, Patrick was on his way home. Alice-Azania Jarvis
Independent