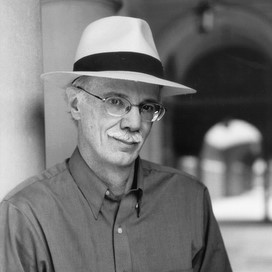 Steven


Millhauser

Short story writer and novelist
Steven Millhauser is a Professor of English at Skidmore College, and lives in Saratoga Springs, New York.

His first novel, Edwin Mullhouse: The Life and Death of an American Writer, was published in 1972 and several years later received the Prix Médicis Étranger in France. Since then he has published nine works of fiction, among them several collections of stories and novellas, as well as the novel Martin Dressler: The Tale of an American Dreamer, which won the Pulitzer Prize in 1997. He is also a recipient of the Lannan Award and has been honored by the American Academy of Arts and Letters.

His story "Eisenheim the Illusionist," from The Barnum Museum, was the basis of the film The Illusionist (2006), starring Edward Norton and Paul Giamatti.

Millhauser's stories draw us in all the more powerfully, extending his peculiar domain further than ever.

Publishers Weekly starred review on Dangerous Laughter
A vividly imaginative new collection.
Publishers Weekly
on Voices in the Night
Every reader knows of writers who are like secrets one wants to keep, and whose books one wants to tell the world about. Millhauser is mine.
David Rollow
Boston Sunday Globe on Voices in the Night