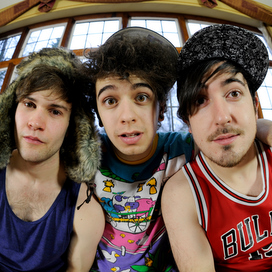 The


Midnight Beast


British group mixing comedy & music; a global phenomenon thanks to their online video parody of Ke$ha's 'Tik Tok'.
A global phenomenon thanks to the power of YouTube and their parody of worldwide hit 'Tik Tok' by Ke$ha, The Midnight Beast are a group of three London boys living and exposing the lifestyle of today's youth.
Writing songs and sketches with a slick sense of humour and a healthy dose of The Cuban Brothers and Beastie Boys mentality, members Stefan Abingdon, Dru Wakely and Ashley Horne are making more than waves with their unique sound and "take the piss outta pop culture" routine.
With their videos notching up literally millions of views it's perhaps unsurprising that their recent gigs at The Great Escape, Latitude and Reading & Leeds Festivals caused something of a riot when they were bombarded with thousands of fans clamouring to catch a glimpse of the 'Beast boys and sing along to cult favourites 'Ninja's', 'Lez Be Friends' and 'House Party' and of course 'Tik Tok' which even popstress Ke$ha herself tweeted: "Holy. S**t. this is better than my version!"
Book At Us Now, which tells the hilarious behind the scenes story of The Midnight Beast's phenomenal rise to fame, was published in October 2011.