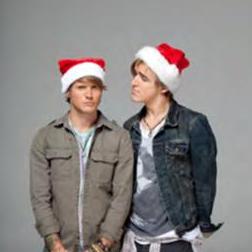 Tom


Fletcher and
Dougie
Poynter

Joint authors of the Pooping Dinosaur series (published by Red Fox) and members of the supergroup McBusted
Tom Fletcher and Dougie Poynter found fame as members of the British guitar-pop band McFly. The band, completed by Danny Jones and Harry Judd, have had seven UK number 1 singles and five Top Ten albums since their debut in 2004. The Dinosaur That Pooped Christmas was Tom and Dougie's first book, published by Red Fox in 2012. It was written with the same dedication and sense of fun they bring to their music, and inspired by their love of classic children's literature.
"We absolutely love children's fiction and have a passion for writing. We constantly come up with ridiculous ideas and can't quite believe that this one is becoming a reality. We spend hours in book shops when we're on tour finding inspiration from all kinds of books but more often than not we find ourselves in the kids' picture book section getting funny looks from parents and staff. We both know that as kids we would have loved this book and so we hope that when children and parents read it they laugh as much as we did when we wrote it. Smelly Christmas everyone."
McFly's albums Room On The Third Floor, Wonderland, Motion In The Ocean, Radio:ACTIVE and Above The Noise have sold over 10 million copies worldwide, and the band have just released a retrospective collection entitled Memory Lane. Tom has also turned songwriter for One Direction, lending tracks to both of their albums so far. Meanwhile away from the band, both Tom and Dougie have charmed TV audiences – Dougie as the winner of 2011's I'm A Celebrity Get Me Out Of Here and Tom with his successful appearance on The Cube and cameos on The Only Way Is Essex.
The duos second book The Dinosaur That Pooped a Planet was released in August 2013, also by Red Fox.
Curtis Brown represent Tom and Dougie for their books.