book
| 2011
UK →
Vintage
(Ed. Frances MacMillan)
A new translation of Ovid by Tom Payne with an introduction by Hephzibal Anderson.

Are you a sought-after dreamboat forever turning down invitations from attractive admirers? Is your life filled with passionate escapades and fashionable parties? Do you look and feel fantastic all the time? If not, then perhaps there is something you can learn from Ovid, the best teacher on the subject of love in all of history.

This little book may have been written in the days of chariot races, gladiators and emperors, but the advice within its covers is enduringly useful and entertaining. The Art of Love contains all men need to know about the best places to pick up girls, how to handle illicit affairs, how to look after a girlfriend when she has a cold, how to dress suavely and how to make women jealous. It also has plenty of tips for women ranging from how to create a beguiling hairstyle to how to seduce men at parties and show off your best attributes while frolicking in bed. It even contains the companion volume The Cure for Love to help you through the hard times if things go wrong.

This delightfully witty handbook was found so shocking on its first publication that poor Ovid was sent into exile in disgrace. Since the Emperor Augustus had it taken off the shelves of Rome's libraries in 8 AD it has also been banned by the Vatican and the US Customs Office at various points in its illustrious career.
Rights
Audio Rights
Available
The audio rights are handled by Alice Lutyens.
Melissa Pimentel manages the translation rights for The Art of Love: Ovid
Media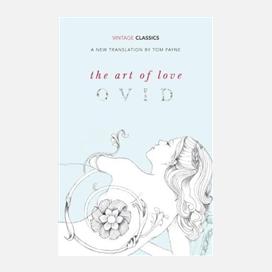 Reviews
His wit, fluency and erotic treatises made him one of the most influential writers of ancient times.
The Independent
Much of Ovid's advice would not go amiss today.
Guardian
Rome's wittiest poet
The Independent on Sunday