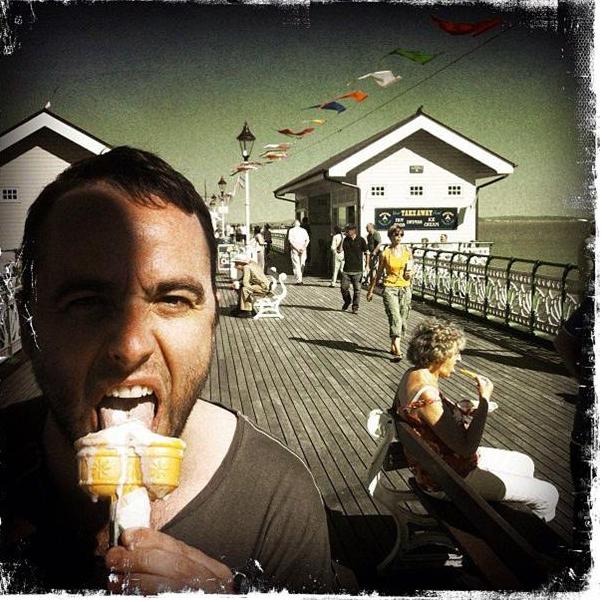 Biography
Dafydd is an award-winning writer, composer and performer, working in theatre, radio and television in both English and Welsh.
His first full-length play Llwyth [Tribe] became a Welsh-language cultural phenomenon and established him as one of the most exiting dramatists working in Wales.

His work has been performed across the UK and internationally in Australia, Canada, Hong Kong, New Zealand, Taiwan and the USA.

Recent credits include Psychobitches (Tiger Aspect/Sky Arts), Terrace (BBC, Radio 3), Gwaith/Cartref (Fiction Factory/S4C) Heritage (National Theatre Connections), The Village Social (NTW), Llwyth (Theatr Genedlaethol/Sherman Cymru) and My Name is Sue & Sue: The Second Coming (Dafydd James & Company).

He regularly collaborates with Ben Lewis, and together their creation of 'Sue' (also performed and composed by Dafydd) has won a Total Theatre Award for Music and Theatre. A film inspired by Sue is in development with Fiction Factory. Their musical The Village Social, which toured for NTW in October 2011, is now being re-developed for a larger stage. A workshop performance was performed at the National Theatre Studio in June 2015.
Currently, he is composing and writing the lyrics (with Ed Thomas) for a new version of Mother Courage for NTW and Heritage is being translated for the National Touring Theatre of Sweden. He also has an original six-part drama series in development with Fiction Factory, and is one of four writers attached to 'Y Labordy'. Through this scheme he's developing a television series, a play and a feature film, working closely with Lisa Albert (the award-winning writer and producer of Mad Men); playwright and dramaturg, Kaite O'Reilly; and director Euros Lyn.
CV
TV
Writer & Creator
creator & writer of a 6 part series
Creator & writer of a 6 part series
Radio
Writer
Starring
Matthew Gravelle
Alex Harries
Eiry Hughes
Lee Mengo
Play for the BBC Radio 3 strand The Wire
Radio play about a young man whose plan for a laddish Christmas in Cardiff is ruined by a family crisis