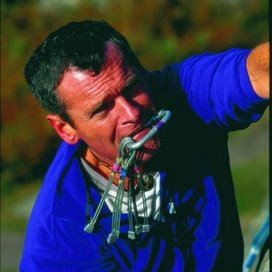 Joe Simpson
Mountaineer and author
Biography
Joe Simpson is famous for his book Touching the Void (Jonathan Cape 1988), which describes his disastrous and near-fatal attempt to climb Siula Grande in the Peruvian Andes with Simon Yates. The book won the NCR Award, the Boardman Tasker Prize for Mountain Literature and was subsequently made into a BAFTA-winning film.

His later non-fiction books describe other expeditions, including an attempt on the North Face of the Eiger and also his changing feelings towards the pursuit as a result of the many deaths caused by extreme mountaineering.

Joe has also written a novel, The Water People (Jonathan Cape 1992) and his book The Beckoning Silence has been filmed as a drama-documentary for Channel 4.