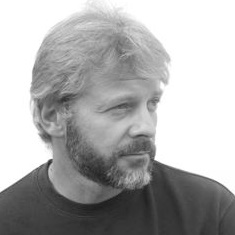 Jonathan Guy Lewis
Playwright
Biography
Jonathan Lewis is a writer and director for theatre and television.
Jonathan's play Our Boys opened to universally good reviews in 1991 and had a West End revival in 2012 starring Laurence Fox, Arthur Darville and Cian Barry.
His one man show I Found My Horn was critically acclaimed when it opened in 2008. It toured the UK, had a run at the Hampstead Theatre in November 2009, and then came to the Trafalgar Studios in London's West End in 2014.
Jonathan is also an actor and has appeared in numerous television dramas including Soldier, Soldier, Silent Witness and Heartbeat.
CV
Theatre
Director
Starring
Beth Cordingly
Norman Pace
Abi Tucker
Comic play about the 2003 Rugby World Cup
TV
Writer
Starring
Joanne Adams
Shirley Greenwood
Glen Murphy
Jonny also starred in the long-running popular drama
Pearson Television
In development