Books
Amazon to publish James Bond backlist in North America
Apr 17, 2012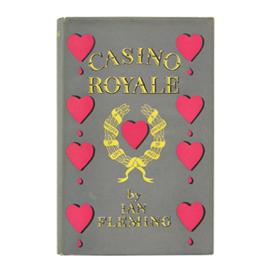 Amazon Publishing has acquired a ten-year license for North American rights to the entire list of James Bond books byIan Fleming in print and ebook. Fleming's two works of non-fiction, consisting of a collection of travel writings called Thrilling Cities (1963) and an exposé of the illegal precious stones trade entitled The Diamond Smugglers (1957), are also included in the deal negotiated by Jonny Geller. All the titles will be reissued by Amazon Publishing's Thomas & Mercer imprint in summer 2012.
The deal for the 14 classic James Bond titles includes the first James Bond book in the series - Casino Royale (1953) -which will celebrate 60 years of publication in 2013, as well as Live and Let Die (1954); Moonraker (1955); Diamonds Are Forever (1956); From Russia with Love (1957); Dr. No (1958); Goldfinger (1959); For your Eyes Only (1960); Thunderball (1961); The Spy Who Loved Me (1962); On Her Majesty's Secret Service (1963); You Only Live Twice (1964); The Man With The Golden Gun (1965) and Octopussy and the Living Daylights (1966). Since their first publication the books have sold over 100 million copies worldwide and have been the inspiration behind the world's longest-running film franchise. Following Fleming's death in 1964, Kingsley Amis wrote the next book in the Bond series, Colonel Sun, under the name of Robert Markham. Bond novels have since been written by John Gardner, Raymond Benson, Sebastian Faulks and Jeffery Deaver.
Geller says, "This deal heralds a new phase in Ian Fleming's publishing story. We are excited to be working with Amazon in North America to bring a new generation of readers to Ian Fleming's classic novels."
This deal follows last month's announcement by The Random House Group that the Bond backlist was returning to its publishing roots in the UK, with Vintage Books (sister imprint of Jonathan Cape, the original publisher of Casino Royale) acquiring a ten-year license for exclusive rights to the Bond novels in the English language with the exception of North America.
William Boyd, the bestselling author of Waiting for Sunrise and Ordinary Thunderstorms, was named on 12th April as the writer of the next James Bond novel.
Read more on the story at the Wall Street Journal, Financial Times, The Bookseller, The New York Times, The Washington Post, The Independent, The Telegraph and the Los Angeles Times.