Actors
Cal MacAninch stars in The Judas Kiss
Sep 13, 2012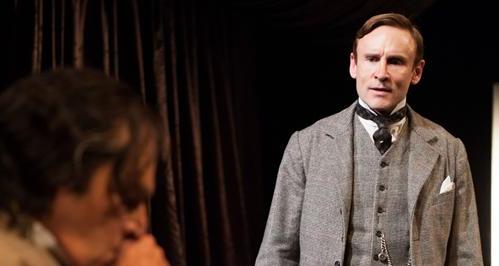 Cal MacAninch stars in David Hare's play The Judas Kiss, which has opened at the Hampstead Theatre.
Directed by Neil Armfield, the play focuses on two central moments in the life of Oscar Wilde: the day he decides to remain in England and face imprisonment and the night two years later, when Lord Alfred Douglas, the lover for whom he risked everything, betrays him.
Cal MacAninch plays Robbie Ross, one of Wilde's oldest friends and his most loyal. With the pressure of time against them, Ross tries desperately and without success to persuade Wilde to flee to the continent to escape arrest. Two years down the line and still very much the voice of measure and reason, Ross tries to persuade Wilde to re-build a connection with his wife and children, but to no avail.
In his four-star review for The Telegraph, Dominic Cavendish has praised Cal's performance, describing how "Wilde has every reason to seize the chance to flee England – as advised by his loyal friend Robbie Ross (Cal MacAninch, superb in his withheld exasperation) – but he elects to stay on and fight a losing battle."
The play has received a host of glowing reviews with a five-star verdict in The Evening Standard and also a four-star review in WhatsonStage.
The Judas Kiss performs at Hampstead Theatre until October 13th, before embarking on a tour.