Theatre, Film and TV
Call The Midwife begins on BBC 1
Jan 13, 2012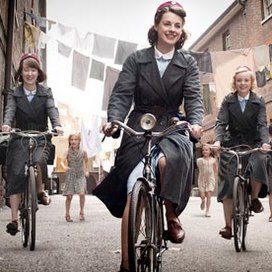 Call the Midwife begins on BBC 1 Sunday 15th January at 8pm. Based on the best-selling memoirs of the late Jennifer Worth, the new six part series is a true-to-life look at the colourful stories of midwifery and families in East London in the Fifties.
This week's episode sees the newly qualified midwife Jenny Lee, played by Jessica Raine, arriving at Nonnatus House to discover she has been sent to a convent and not the small private hospital she had expected.
Harriet Warner joins the heavily female cast and crew, having written the fifth episode in this six-part drama. Harriet's episode will air on the 12th February.
Vanessa Thorpe of The Observer said: "The drama will be the first to put childbirth, and its place in social history, at the heart of a television serial."
Call The Midwife starts on BBC 1 on Sunday 15th January at 8pm.