Theatre, Film and TV | Dec 19, 2016
Christmas TV and Films from Curtis Brown clients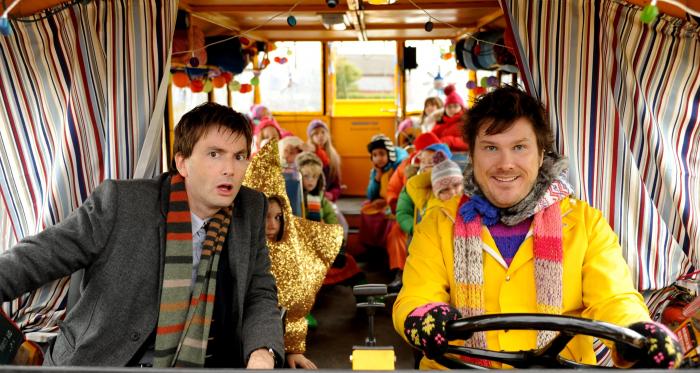 A host of Curtis Brown clients will be represented on TV screens this Christmas in a range of Children's TV shows, comedies and films.
The viewing kicks off on Monday 19th December with Two Doors Down, on BBC2 at 10pm, produced by Catherine Gosling-Fuller.
On Tuesday 20th, CBBC will show Gangsta Granny at 7pm, written by Kevin Cecil and Andy Riley, and directed by Matt Lipsey. Holby City, written by Katie Douglas, will be on BBC1 at 8pm, while Emmerdale, written by Linton Chiswick, is on ITV at 10pm. Also that evening, Upstart Crow, directed by Matt Lipsey is on BBC2 at 10:45pm.
Ben Evans' Six Wives with Lucy Worsley continues on Wednesday 21st on BBC1
at 9pm.
On Friday 23rd the new series Travelers, directed by Nick Hurran, premieres on Netflix and Nativity!, written and directed by Debbie Isitt, is on CBBC at 6:50pm.
Walliams And Friend, directed by Matt Lipsey, written by The Dawson Brothers, and script edited by Kevin Cecil is on BBC1 at 9:30pm and The Windsors, written by George Jeffrie and Bert Tyler-Moore, will be on Channel 4 at 10pm. There's also, Stella Xmas Special, at 9pm on Sky One, written by Ben Edwards
On Christmas Eve, Nativity 2: Danger In The Manger, also by Debbie Isitt, will be on CBBC at 7:45am. The Inbetweeners Movie, written and directed by Damon Beesley and Iain Morris, is on E4 at 9pm on Christmas Eve, followed by the sequel, also by Damon and Iain, at the same time on Christmas Day. Ed Bazalgette directs the 2016 Doctor Who Christmas special, airing on BBC One at 5:45pm. This follows Ed's previous work this year on Doctor Who spinoff- Class.
On Tuesday 27th, Gnomeo & Juliet, again written by Andy Riley and Kevin Cecil, will be shown on BBC1 at 9:10am. Later that evening, at 10pm on BBC1, Walliams & Friend continues.
On Friday 30th December, Stag, written by George Kay, will be on BBC2, starting from 11:30pm.