Books | Oct 23, 2020
Curtis Brown titles picked for The Richard and Judy Book Club's 10th anniversary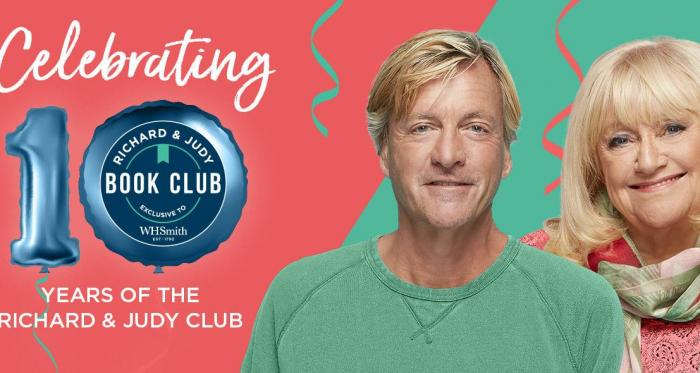 We are delighted to announce that four Curtis Brown titles have been selected for the 10th Anniversary of The Richard and Judy Book Club with WHSmith. After a decade of outstanding recommendations, Richard and Judy have selected twelve of their favourite, stand-out titles, including The Family Upstairs by Lisa Jewell, I Let You Go by Clare Mackintosh, Us by David Nicholls and The Husband's Secret by Liane Moriarty.
First selected for the December 2019 Richard and Judy Book Club, The Family Upstairs is a compulsive thriller that stands head and shoulders above the rest. In a large house in Chelsea, a baby is awake in her cot. She's well-fed and cared for, while three decomposing corpses lie next door. Who has been looking after the baby, and where did they go?
I Let You Go is the debut from bestselling author, Clare Mackintosh, and was selected for the Richard and Judy Book Club in summer 2015. In a split second, Jenna Gray's world descends into a nightmare. Desperate to escape, she moves to a remote cottage on the Welsh coast, but she is haunted by her fears, her grief and her memories of a cruel November night that changed her life forever.

Now a major BBC One series starring Tom Hollander, Us is the story of Douglas Petersen, his wife and their son. Douglas understands his wife's need to 'rediscover herself' now that their son is leaving home, he just thought they'd be doing their rediscovering together. So when Connie announces that she will be leaving, too, he resolves to make their last family holiday into the trip of a lifetime. What could possibly go wrong? Us was first picked for the summer 2015 Richard and Judy Book Club.
The Husband's Secret is another brilliant, multi-layered mystery from the author of Big Little Lies. It was first selected for the Richard and Judy list in 2013 and has since sold over two million copies.