Heritage | Sep 1, 2015
Dorothy Macardle published as part of Tramp Press's Recovered Voices series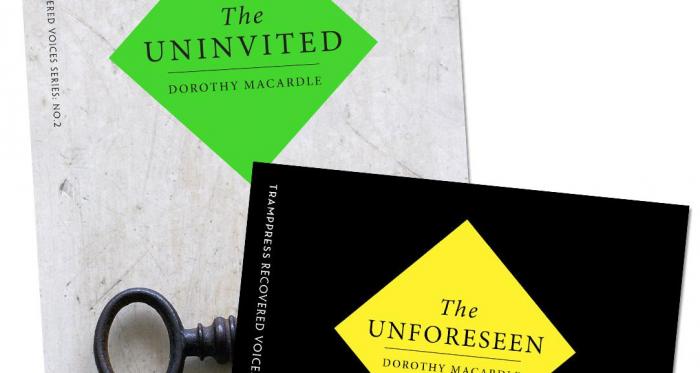 Dorothy Macardle's The Unforeseen and The Uninvited have been published as part of Tramp Press's Recovered Voices series.
The Unforeseen

They would have burnt me in the Middle Ages … witches are a nuisance. They are dangerous.

In 1938, Virgilia Wilde, an Irish writer, leaves England to begin a new life in the tranquil setting of Wicklow with her daughter Nan. As strange visions threaten those around her, Virgilia must decide if she can intervene and prevent tragedies to come, or if her worst fears must play out as she helplessly looks on…

This follow-up to the critically acclaimed haunted-house novel The Uninvited is a sharply observed account of pre-World War II Dublin, as well as a darkly prophetic forecast of things to come. The Unforeseen reaffirms Macardle as Ireland's answer to Shirley Jackson.

The Uninvited

Brother and sister Roderick and Pamela Fitzgerald flee their busy London lives for the beautiful but stormy Devon coastline. They are drawn to the suspiciously inexpensive Cliff End, feared amongst locals as a place of disturbance and ill omen.

Gradually, the Fitzgeralds learn of the mysterious deaths of Mary Meredith and another strange young woman. Together, they must unravel the mystery of Cliff End's uncanny past – and keep the troubled young Stella, who was raised in the house as a baby, from returning to the nursery where something waits to tuck her in at night …

This strange, bone-chilling story was first published in 1942, and was adapted for the screen as one of Hollywood's most successful ghost stories, The Uninvited, in 1944.

DOROTHY MACARDLE (1889-1958), an Irish novelist, playwright, journalist and historian, was born in Dundalk in 1889 to a wealthy brewing family, and educated at Alexandra College and University College, Dublin. A Republican and member of Cumann na mBan, Macardle was imprisoned for her activities during the Irish Civil War, and later worked as a journalist with The Irish Press. Her monumental history, The Irish Republic, was published in 1937, and her account of the plight of children in war-torn Europe, Children of Europe, in 1949. Her plays were produced at the Abbey and Gate theatres, and among her works of fiction are Earth-Bound: Nine Stories of Ireland (1924), Uneasy Freehold/The Uninvited (1942, and republished by Tramp Press in 2015), and Fantastic Summer/The Unforeseen (1946). She died in Drogheda in 1958.