Translation Rights
Francis Fukuyama meets Polish President
May 30, 2012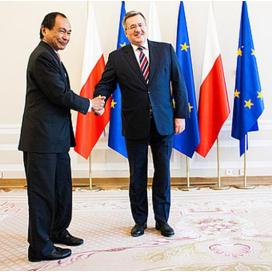 Francis Fukuyama visited Warsaw on the publication of his new book, The Origins of Political Order: Volume One as the special guest of the Third Innovative Economy Congress organized by the National Chamber of Commerce. He gave a public lecture entitled "Trust: The Social Virtues and the Creation of Prosperity".

While there, he met President of Poland Bronisław Komorowski in the Presidential Palace. During the meeting, the parties discussed new directions of the US foreign policy, the role of Poland in the context of Europe and world security as well as new challenges faced by NATO.

In The Origins of Political Order, Francis Fukuyama provides a sweeping account of how today's basic political institutions developed. The first of a major two-volume work begins with politics among our primate ancestors and follows the story through the emergence of tribal societies, the growth of the first modern state in China, the beginning of the rule of law in India and the Middle East, and the development of political accountability in Europe up until the eve of the French Revolution.

The Origins of Political Order is published in Poland by Rebis. It has been published in the US and UK and will be translated into over 15 languages across the world.