Theatre, Film and TV
Channel 4 serves up Fresh Meat
Sep 20, 2011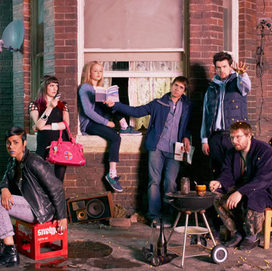 Fresh Meat, the new eight-part comedy drama from Sam Bain and Jesse Armstrong, premieres at 10pm on Channel 4 on 21 September.
Written by Tony Roche, Keith Akushie, Rose Heiney and Jon Brown, and directed by Annie Griffin, it follows a group of six new students as they embark on the most exciting period of their lives - university.
Shipping up as freshers at their new shared house are: JP (Jack Whitehall), public school boy with good teeth and an inflated sense of entitlement; Kingsley (Joe Thomas), charming and crushingly insecure; Josie (Kimberley Nixon), determined to experience 'new things'; socially-awkward know-it-all Howard (Greg McHugh), hard-living Vod (Zawe Ashton); and Oregon (Charlotte Ritchie), desperate to be cool and terrified of being boring.
'Smart, sympathetic and pretty much adorable from the get-go. Lots of laughs, but the use of Waltz #2 by Elliott Smith at the end near breaks your heart. What an opener' Julia Raeside The Guardian
'Fresh Meat adds drama to the comedy, with well-drawn characters... and a brilliant script... plenty of laughs' Joe Clay The Times
'The script is sharp, the lead character sympathetic... and the Gap Yah public schoolboy is rather amusing' The Telegraph
'Assured and has wonderfully subtle characters' Daily Mirror