Translation Rights
Haruki Murakami and Walter Isaacson triumph in the 2011 Goodreads Choice Awards
Dec 7, 2011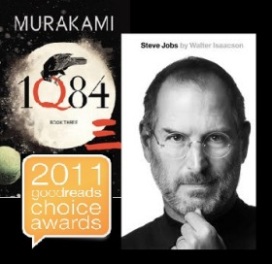 Goodreads has just announced its list of the best books of 2011, as voted by its members. The website is a sort of readers' hub, where visitors can review and discover thousands of books. The interactivity the site allows extends to the Goodreads Choice Awards, with members of the site voting for the top books of the year in 22 categories ranging from Best Fiction, Best Historical Fiction and Best Science Fiction to Best Non Fiction and Best History & Biography.

Haruki Murakami's much anticipated third volume of 1Q84 was honoured with the Best Fiction Award, from a total of 4,107 votes. Up against competition such as Ann Patchett's State of Wonder and Jeffrey Eugenides' The Wedding Plot, Murakami's tale of an alternative 1984 proved the be the most popular amongst Goodreads readers.

The world-wide success of Walter Isaacson's Steve Jobs: The Official Biography was also mirrored by the votes cast by Goodreads readers in the Best History & Biography Category. Receiving 5,463 votes, Steve Jobs: The Official Biography proved to be a clear winner, some 2335 clear of its nearest rival.


Launched in December of 2006, Goodreads is a site devoted to helping people find and share books that they love, with an ambition to improve the processes of reading and learning throughout the world. With a registered community of 6,500,000 members who have placed 220,000,000 books on their shelves, Goodreads offers an interactive place to discuss, review and discover a wide range of books. The success of both 1Q84 and Steve Jobs: The Official Biography tops off a bumper year for both Walter Isaacson and Haruki Murakami.