Actors | Jun 16, 2015
Hoff the Record Hits Screens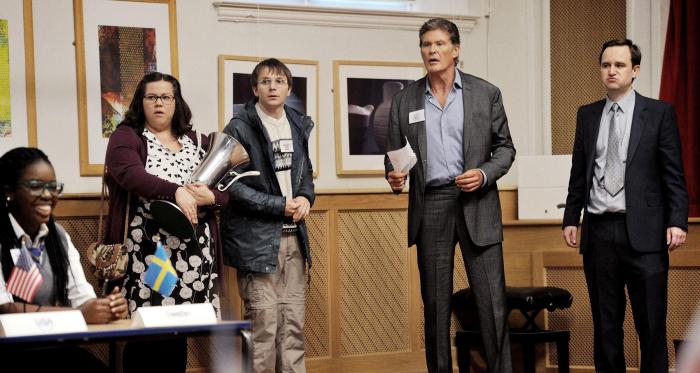 Fergus Craig and Mark Quartley star in new six-part comedy series Hoff the Record opposite David Hasslehoff for UKTV and Dave.
The series was directed by Natalie Bailey and produced by Krish Majumdar with Mickey Down on the writing team.
Shot in documentary style, Hoff the Record follows David Hasslehoff playing a fictionalised version of himself 30 years after rising to fame with Knight Rider and Baywatch. The series follows him as he moves to the UK to get his career back on track and make sense of his increasingly surreal life - not to mention his previously unknown German son and oddball entourage.
Fergus Craig stars as Max Coleman, the Hoff's opportunistic UK manager tasked with reviving his flagging career. Fergus was most recently seen as a guest on The Wrong Mans for BBC2 and is about to shoot a new feature Waiting for You for Zephyr Films. Fergus is the man behind hit spoof Twitter account @Tips4actors with 38,000 followers for which he recently released a book under the same pseudonym with Oberon Books.
Mark Quartley plays the Hoff's illegitimate son Dieter, born out of a one-night stand the Hoff had with a German woman on the eve the Berlin Wall came down. Mark is currently filming as a semi-regular in Lucky Man for Sky and has recently finished filming Cuffs for BBC1.
Craig Roberts guest stars as Josh Brooke-Webb, director of the Hoff's upcoming biopic film. Craig has recently finished shooting The Revised Fundamentals of Care-Giving opposite Paul Rudd and has recently completed directing, writing and starring in feature Just Jim. He is currently shooting the lead in the US TV series, Red Oaks in New York.
John MacMillan guest stars as Marcus Fuster - an actor auditioning to play the Hoff in his upcoming biopic feature film. John is currently filming as a series regular for new E4 comedy Chewing Gum and most recently starred in Jed Mercurio's series Critical for Sky.
Oliver Coopersmith plays head boy Alvin Levine, an archetypal swot with a latent nasty, bullying streak. Oliver is currently filming a leading regular role in the BBC's Dickensian.
The series also features Lisa Jackson who plays Ellie, a runner who interviews the Hoff and manages to rip off his chest hair whilst trying to attach his microphone. Lisa most recently shot new pilot The School for E4.
Hoff the Record starts on Dave on Thursday 18th June at 9pm.