Books
Jeffrey Archer visits Curtis Brown Creative
Nov 25, 2011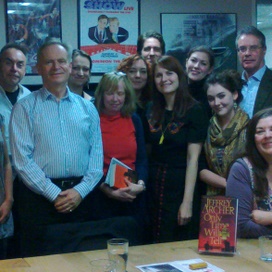 Curtis Brown Creative's Autumn novel-writing course has been visited by Jeffrey Archer. Lord Archer, whose books have sold more than 250 million copies in 97 countries and 37 languages, spoke to the students about the importance of great story-telling and the need for writers to have a disciplined routine. He answered questions on his writing methods and the development of his career as a best-selling author, and even set the students the challenge of writing a 100-word story; a feat he recently completed for the Reader's Digest Magazine. Read Jeffrey Archer's blog about the visit.

The course, which is run by Curtis Brown agent and novelist, Anna Davis and author Christopher Wakling, guides 15 students through the process of writing their novels, with weekly lectures and guest speakers. In addition to Jeffrey Archer, this year's course has been visited by the authors JoJo Moyes and D J Taylor and figures from the world of publishing, including Rosamund Lupton's editor at LittleBrown, Emma Beswetherick and Francesca Main, the Editorial Director of Picador.
Jeffrey Archer's most recent novel, Only Time Will Tell, is the first of the Clifton Chronicles and topped the bestsellers chart when it was released in September.