Books | Aug 28, 2014
Late-night bookshop openings celebrate new Haruki Murakami novel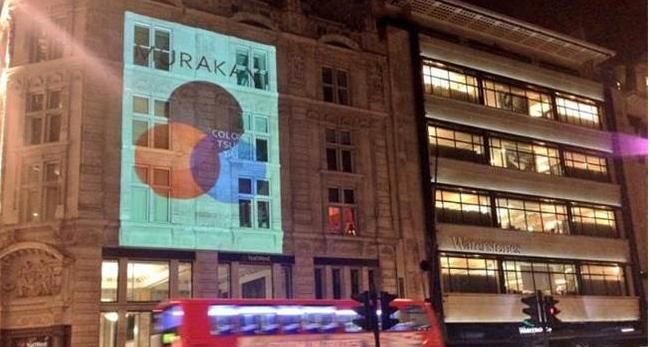 Haruki Murakami's new eagerly awaited new novel, Colorless Tsukuru Tazaki and His Years of Pilgrimage, was celebrated by late night bookshop parties and early morning bookshop openings in London on 12th August.
Foyles threw open their doors at midnight to welcome keen readers with live jazz and a glass of wine, while at the Big Green Bookshop in Wood Green, the novelist Stuart Evers and publisher and Murakami fan Scott Pack spoke to a crowd that filled the tiny shop for beer and sushi.
Waterstones Piccadilly was also among the bookshops that woke up early on publication day to welcome the pre-work crowd with a special breakfast event of champagne and canapés – and copies of the book.
For the launch, the book jacket was also projected on the great chimney of the Tate Modern by the banks of the River Thames – as well as on the Royal Opera House and Waterstones Piccadilly, among other London locations.
As Patti Smith writes in the New York Times, 'A devotional anticipation is generated by the announcement of a new Haruki Murakami book. Readers wait for his work the way past generations lined up at record stores for new albums by the Beatles or Bob Dylan. There is a happy, frenzied collective expectancy . . . the Murakami effect.'
Translated into over 50 languages around the world,
Colorless Tsukuru Tazaki and His Years of Pilgrimage
has been published to great critical acclaim and is featured on international bestseller lists. The
Spectator
calls it 'A rich and even brilliant piece of work. Genuinely resonant and satisfying', while Boyd Tonkin in the
Independent
writes, 'Murakami's prose seamlessly fuses folksiness and profundity . . . A harmonious blend of naivety and riddling sophistication'.
Haruki Murakami has been the recipient of a host of international awards and honours including the Franz Kafka Prize and the Jerusalem Prize. He has also received honorary doctorates from the University of Liege and Princeton University in recognition of his works.
Colorless Tsukuru Tazaki and His Years of Pilgrimage
is available now at all good bookshops and online.
Thanks to @BethanKJones for the photo!