Books | Jun 3, 2015
Marian Keyes, David Nicholls, Clare Mackintosh and Freya North all Sunday Times Bestsellers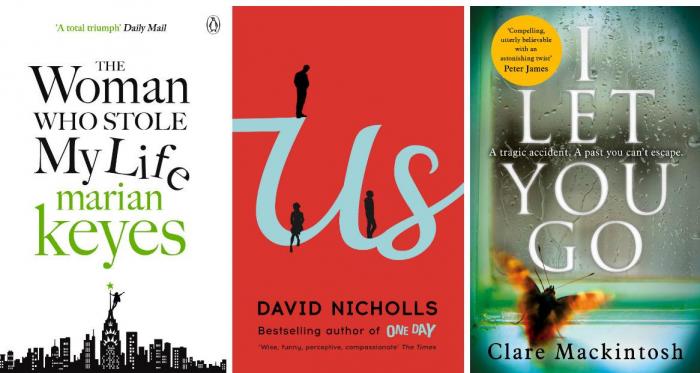 Novels from Marian Keyes, David Nicholls, Clare Mackintosh and Freya North are all Sunday Times Bestsellers.
The Woman Who Stole My Life
by internationally bestselling author
Marian Keyes
is number one across the whole chart. One day, sitting in traffic, married Dublin mum Stella Sweeney attempts a good deed. The resulting car crash changes her life. For she meets a man who wants her telephone number. The consequences take Stella thousands of miles from her old life, turning an ordinary woman into a superstar, and, along the way, wrenching her whole family apart.
David Nicholls'
Us
is at number three in both the paperback fiction chart and combined chart. Longlisted for the Man Booker Prize 2014 and chosen as a Richard and Judy summer pick,
Us
is a brilliant, bittersweet novel about love and family, husbands and wives, parents and children. When Douglas Petersen's wife announces that she will be leaving him now their teenage son has flown the nest, Douglas resolves to make their last family holiday together into the trip of a lifetime: one that will draw the three of them closer, win the respect of his son, and bring his wife back to him. Brilliantly witty, insightful and bittersweet, this is a novel about love and family.
Us
is the follow-up to David Nicholls' critically acclaimed bestseller,
One Day,
which went on to sell over 5 million copies and has been translated into forty languages.
Clare Mackintosh's
debut novel
I Let You Go
holds firm at number seven in the paperback chart. Currently a Richard & Judy pick,
I Let You Go
is Mackintosh's debut novel and critics and authors alike are raving about it. Mackintosh was inspired to write the novel by a horrific hit-and-run incident in her own city, in which a nine-year-old boy was killed by a joyrider. Despite an extensive police investigation, the offender was never charged. Mackintosh couldn't get this case out of her mind, and asked herself not only how the boy's mother could survive the loss of her son, but also - crucially - how could someone live with the knowledge they had killed a child. These questions form the crux of page-turning
I Let You Go.
Freya North's
The Way Back Home
is number ten in the paperback chart. Born and raised in an artists' commune in Derbyshire, Oriana Taylor had freedom at her fingertips in a home full of extraordinary people. But now, after an eighteen year absence, Oriana is back and must face the Bedwell brothers, Malachy and Jed, and revisit what happened during the summer when she was fifteen, and uncover all the secrets she has buried since then.