Translation Rights | Apr 30, 2015
Netflix Picks Up Green Eggs and Ham Animated Series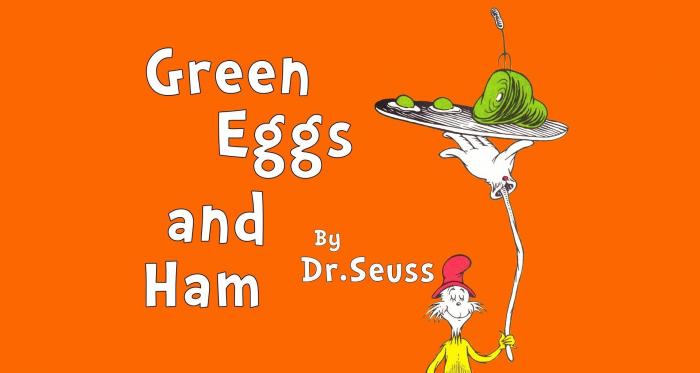 The Dr. Seuss classic Green Eggs and Ham is being taken on by streaming service Netflix as its biggest original children's series to date.
The series will be made up of 13 episodes and will come from executive producers Jared Stern, Ellen DeGeneres, Jeff Kleeman, Mike Karz, David Dobkin and Warner Bros Animation. Jared Stern, who is working on The Lego Movie sequel, is writing the adaptation. Estimated to take 3 years to make, the production is slated to begin in May for a 2019 premiere.
Ellen DeGeneres announced the series to her audience at the end of the taping of her syndicated talk show, saying "this show is gonna combine two of my favorite things – Dr. Seuss and binge watching."
Netflix's team had fun with the announcement, providing a rhymed press release written as an homage to Dr. Seuss:

NETFLIX ORDERS GREEN EGGS AND HAM
THIRTEEN EPISODES FOR THE WHOLE FAM
In 2019, This Classic Book
Comes to TV with a Whole New Look
Beverly Hills, Calif., April 29, 2015 –
Issued from Netflix headquarters.
Delivered straight to all reporters.
We'd love to share some happy news

based on the rhymes of Dr. Seuss.

Green Eggs and Ham will become a show

and you're among the first to know.

In this richly animated production,

a 13-episode introduction,

standoffish inventor (Guy, by name)

and Sam-I-Am of worldwide fame,

embark on a cross-country trip

that tests the limits of their friendship.

As they learn to try new things,

they find out what adventure brings.

Of course they also get to eat
that famous green and tasty treat!
Cindy Holland, VP of Original Content for Netflix

threw her quote into the mix:

"We think this will be a hit

Green Eggs and Ham is a perfect fit

for our growing slate of amazing stories

available exclusively in all Netflix territories.

You can stream it on a phone.

You can stream it on your own.

You can stream it on TV.

You can stream it globally.