Actors | Jun 8, 2010
Late Middle Classes resurrected with rave reviews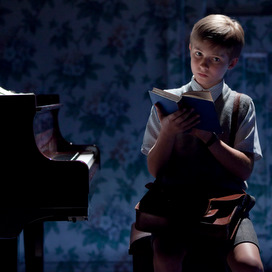 Robert Glenister and Laurence Belcher star in Simon Gray's play The Late Middle Classes, directed by David Leveaux at the Donmar Warehouse.
Set on Hayling Island in the early 1950s, the play follows the story of young Holly (played by Belcher) and his piano teacher Mr Brownlow (Glenister) and the unusual and ambiguous nature of their close relationship.
The young character of Holly, based on Gray's childhood self, was "brilliantly played on press night by the child actor Laurence Belcher" (Charles Spencer, Telegraph), while "Robert Glenister somehow manages to be both creepy and pitiable as the besotted piano teacher."
Michael Billington noted that "Laurence Belcher, one of three alternating Hollys, has just the right emotional alertness" for the role (Guardian) and the Daily Mail praised his "remarkable performance".
The Stage review praises "Leveaux's production - and Robert Glenister's reserved yet heartfelt performance as Brownlow".
The Late Middle Classes performs at the Donmar until 17 July 2010.