Theatre, Film and TV
Nick Payne's Constellations, directed by Michael Longhurst, transfers to the West End
May 22, 2012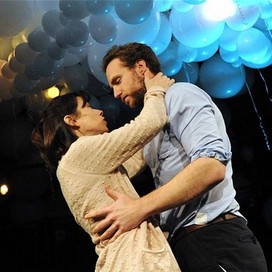 Nick Payne's Constellations, directed by Mike Longhurst, will transfer to the Duke of York's Theatre in the West End.

Constellations enjoyed a sell-out run when it premiered at The Royal Court Theatre in January 2012 and universal critical acclaim. Rafe Spall and Sally Hawkins will resume the roles of Marianne and Roland, in Nick's play exploring love, friendship and the notion of free will against a backdrop of quantum multiverse theory.
Artistic Director of the Royal Court, Dominic Cooke said of Constellations,
"When Nick Payne's exceptional play
Constellations
came to us in autumn last year, I knew it was something special. We quickly rearranged our season to squeeze in a four week slot in our tiny 90-seater studio in January. It's exactly the kind of play that the Royal Court was made for – it's formally exciting with an emotional boldness that dazzled audiences and resulted in an unprecedented demand for tickets."
Constellations will play from Friday 9th November 2012 to Saturday 5th January 2013.