Comedy | Dec 10, 2019
Sian Gibson, Camille Ucan and Ruth Bratt star in Sky One's After Ever After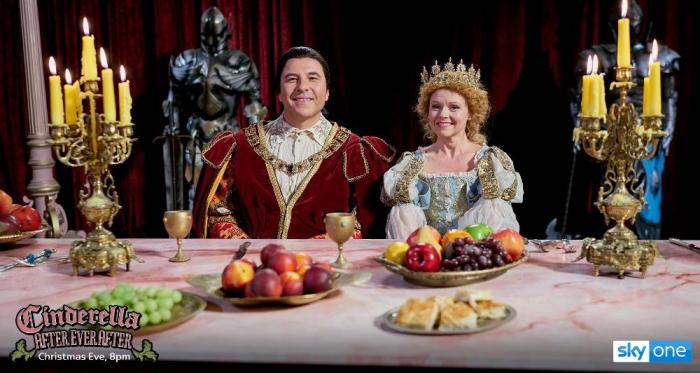 Sian Gibson, Camille Ucan and Ruth Bratt star in Sky One's original Christmas special, Cinderella: After Ever After on Christmas Eve at 8pm on Sky One.
Co-written by comedy tour de force The Dawson Brothers (Big School, That Mitchell & Webb Look, Ant & Dec's Saturday Night Takeaway), this side-splitting special begins where the fairy tale ends; Cinderella (Sian Gibson) has just married her Prince Charming (David Walliams), but soon has a rude awakening when she realises married life isn't all it's cracked up to be when you have an image-obsessed, floss-dancing, hip-hop rapping husband. Perhaps a glass slipper fitting your foot is not sufficient grounds for a lifelong commitment after all?
This heart-warming festive show follows Cinderella (Sian Gibson) as she fights to save The King (Sir Tom Courtenay) from the traps of her evil stepmother Madame Blackheart (Celia Imrie) and her conspiring and moronic stepsisters Dumbella (Ruth Bratt) and Rubella (Camille Ucan)
Commissioned by Zai Bennett and Jon Mountague and executive produced for Sky by Tilusha Ghelani, Cinderella: After Ever After will be produced by King Bert Productions and be executive produced by Jo Sargent for King Bert.