Actors | Mar 11, 2014
Slinger, Hyland and Elliott make a splash in Urinetown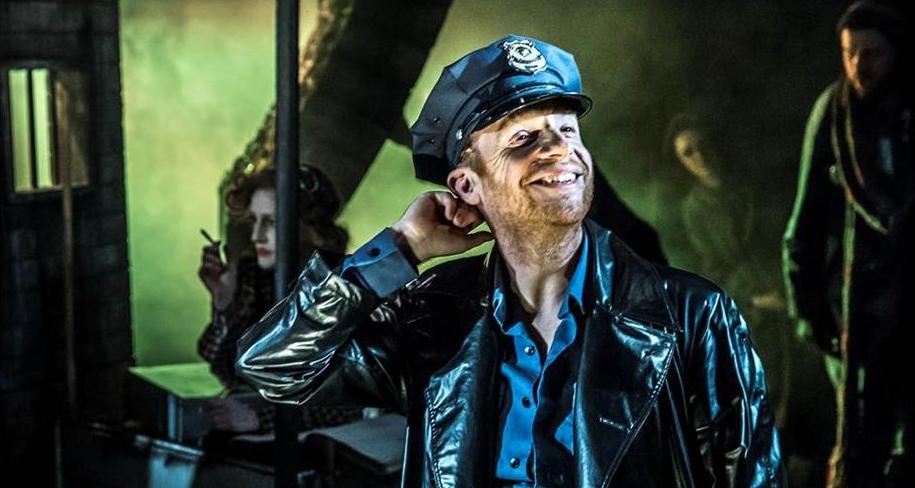 Jonathan Slinger, Rosanna Hyland and Marc Elliott star in Jamie Lloyd's production of the off-Broadway hit Urinetown, which opens at the St James Theatre in London.
Urinetown is set in post-apocalyptic America where environmental catastrophe has caused a drought and forced the city's water to be rationed. As a result citizens are charged to use the toilet.
Jonathan Slinger plays Officer Lockstock, the law enforcer who sends citizens to the infamous Urinetown. Rosanna Hyland plays Hope Cladwell, the daughter of Caldwell B.Cladwell, the evil president and owner of the Urine Good Company. Marc Elliott plays Mr McQueen, Cladwell's sneaky assistant who will do anything to save himself.
Jamie Lloyd has re-imagined the show for is London debut and the show has opened to rave reviews.
Charles Spencer of The Telegraph says "Jonathan Slinger, after many years playing Shakespearean leading roles with the RSC, proves superb as the hard-boiled cop debating the niceties of musical theatre", while The Guardian's Michael Billington writes "Rosanna Hyland play the romantic lead with the right air of self-conscious absurdity".

Henry Hitchings for The Evening Standard surmises that "it's impossible to deny the originality of this crowd-pleaser, and if you like your musicals bold and a bit Brechtian then – to make the sort of obvious pun that the show itself savours – urine for a treat".
Urinetown plays at the St James Theatre until Saturday 3rd May.