Books
Susie Harries shortlisted for James Tait Black Prize
May 14, 2012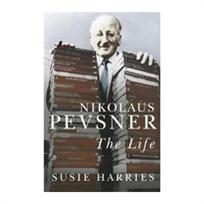 Susie Harries' superb biography Nikolaus Pevsner: A Life has been shortlisted for the renowned James Tait Black Memorial Prize.
The James Tait Black fiction and biography prizes are Britain's oldest literary awards, with the winner in each category receiving £10,000. The prizes, awarded annually by The University of Edinburgh, are the only major British book awards judged by scholars and students of literature. The winners will be announced on Saturday August 25 as part of the Edinburgh International Book Festival.
Published by
Chatto & Windus
, Harries' biography explores the truth behind the renowned architectural historian's reported sympathies with elements of Nazi ideology, his internment in England as an enemy alien, his mother's suicide in 1942 and his sometimes painful assimilation into his country of exile. Harries is the first biographer to have read Pevsner's private papers and, through them, to have seen into the workings of his mind. As well as being jointly awarded the prestigious
Wolfson History Prize
, the book was also shortlisted for the 2011
Duff Cooper Prize
.