Theatre, Film and TV | Oct 22, 2020
The Alienist: Angel of Darkness now streaming on Netflix UK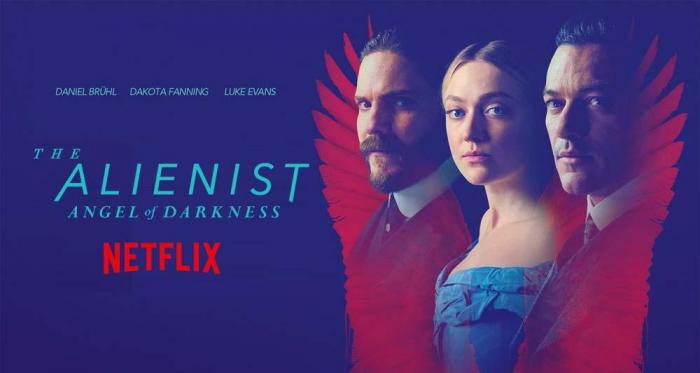 The Alienist: Angel Of Darkness is now available to watch in the UK on Netflix. Stuart Carolan acts as showrunner, writer and executive producer on the 8-part second instalment and David Caffrey has directed five episodes and also acts as an executive producer of the entire series.

The Emmy winning and Golden Globe nominated first season of The Alienist (written by Hossein Amini) garnered worldwide acclaim and has received a raft of strong reviews – described by The Telegraph as 'a winningly grotesque and deliciously macabre period caper'.
An unflinching, gripping, turn-of-the-century murder mystery that spotlights both New York's wealthy elite and the struggling underbelly of the city's 'gilded age'. In The Alienist: Angel Of Darkness, Sara (Dakota Fanning) has opened her own private detective agency. She reunites with Dr Kreizler (Daniel Bruhl), the formidable alienist and John Moore (Luke Evans), now a NY Times reporter to find the kidnapped daughter of the Spanish Consular.
The season features Emily Barber as Violet, Charlotte Hamblin as Maude, Dominic Herman-Day as Stevie, Michael McElhatton as Dr Markoe and Rosy McEwen as Libby Hatch.
All episodes are available to watch on Netflix here.

Praise for the series:
'Angel of Darkness is a dangerous, dark, macabre game of cat and mouse, but there's more at stake here. I loved the first season, but this time around feels more confident and assured.' – Awards Daily
'Sometimes all you want is a really compelling murder mystery with high production value and compelling characters, and in that way The Alienist: Angel of Darkness delivers.' – Collider
'TNT's gilded crime drama returns with a beautiful, better season 2' – Paste Magazine