Books | Oct 6, 2016
The Best Bear in All the World Publishes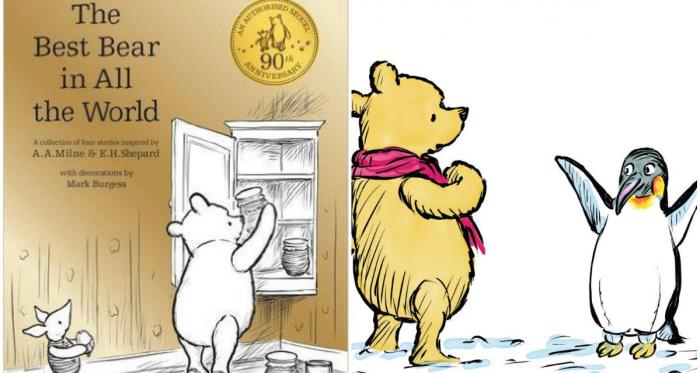 In celebration of the 90th anniversary of Winnie-the-Pooh, the official sequel to A.A. Milne's beloved books, The Best Bear in All the World, is published today in the UK by Egmont.
The Best Bear in all the World contains new seasonal stories from four award-winning children's authors, Paul Bright, Brian Sibley, Kate Saunders and Jeanne Willis, and is illustrated by Mark Burgess in the style of the cherished illustrations by E.H. Shepard. Each story transports readers back to the Hundred Acre Wood for more adventures with Winnie-the-Pooh, Christopher Robin, Piglet, Tigger, Eeyore and the rest of the beloved characters of the classic books, and introduces a new character, Penguin, who visits the wood in Brian Sibley's Winter story.
The Best Bear in All the World is the second authorised sequel to Winnie-the-Pooh (1926) and The House at Pooh Corner (1928), following the publication of Return to the Hundred Acre Wood by David Benedictus in 2009. It will be published by Dutton in the US on 25th October, and has sold into more than thirteen territories around the globe.
Winnie-the-Pooh's 90th Anniversary and The Best Bear in All the World will be celebrated on Monday 10th October with a launch at the Kensington Roof Gardens.