Actors
The Duchess of Malfi Opens To Rave Reviews
Apr 1, 2012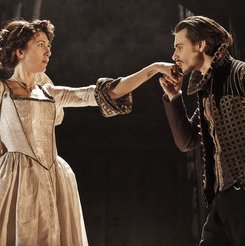 Harry Lloyd, Tunji Kasim and Vyelle Croom appear in the Old Vic's production The Duchess of Malfi which opened on the 28th March to great reviews.

The production, directed by Jamie Lloyd, is the latest incarnation of John Webster's classic tragedy.

Harry Lloyd stars as Ferdinand, the brutally cruel twin brother to The Duchess of Malfi, played by Eve Best. He possesses an unhealthy obsession with his sister and plots to kill her upon discovering her secret marriage to the steward Antonio.

In The Telegraph, Charles Spencer writes, "Harry Lloyd is in fabulously deranged form as the Duchess's jealous twin brother Ferdinand, who clearly harbours incestuous desires. The scene in which he smothers her with furious kisses on her bed is at once exciting and repellent"

The production also features Tunji Kasim as Delio, friend and confidante to Antonio, and Vyelle Croom stars as Malateste, a loyal courtier who witnesses the grim deaths of his masters at the end of the play.

Michael Billington for The Guardian praised Harry Lloyd's portrayal of Ferdinand stating he "captures Ferdinand's decline into wolf-impersonating insanity with a chilling quietude"

The Duchess of Malfi will run at The Old Vic until 9th June 2012.