Books
The publishing world remembers Nina Bawden
Aug 22, 2012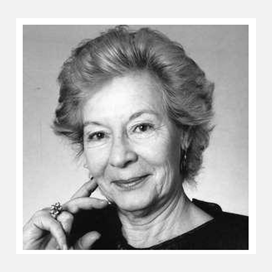 Nina Bawden, the award-winning and beloved writer for both adults and children, whose work has delighted generations, passed away on Wednesday 22 August 2012 at her home in North London with her family around her.

Her over forty novels divide almost equally between books for adults and for young readers. Following her early crime fiction works she tended to alternate between literary novels and stories for children. Her most famous children's story is Carrie's War, inspired by her own wartime evacuation to Wales, and twice filmed for television; but her acclaim from the literary world included being shortlisted for the Booker Prize in 1987 for Circles of Deceit, for 2010's 'Lost Booker' for her 1970 novel The Birds on the Trees, and serving as a Booker Prize judge. Family Money was filmed for television starring Claire Bloom.

Her second memoir, Dear Austen, is not only a tribute to her husband, Austen Kark, who was killed in the 2002 Potter's Bar rail crash - Nina herself being seriously injured - but also tells the story of her indefatigable campaign to gain justice for the crash's victims and their families. She features as character in David Hare's play about the crash and its aftermath, Permanent Way.

Writer PD James once called her "among the most perceptive and accomplished novelists writing today."

All of her adult literary novels and both her memoirs are now published by Virago, whose publisher Lennie Goodings called her "a gently fierce, clever, elegant, wickedly funny woman. She wrote slim books but they were powerful and extraordinarily acute observations about what makes us human".

Francesca Dow of Puffin Books, longtime publisher of Carrie's War as well as other key works by her for children, called her "a wonderful storyteller, brilliant at stepping into the minds of characters and conjuring up a powerful sense of time and place. Nina has made a significant contribution to children's literature and been an influence on many younger writers."

Shortly before she died Nina - who was still writing - was delighted to learn that Macmillan's Bello imprint is to reissue her early crime books, including her first novel.


Gordon Wise, Nina's agent said; "Curtis Brown has for more than five decades been honoured to represent Nina's work and to have the privilege of feeling part of her extended family. We have all lost someone very beloved."