Presenters
Fourth season running for Liberty London Girl and Mercedes-Benz for LFW
Sep 15, 2011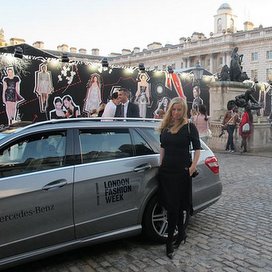 Sasha Wilkins of LibertyLondonGirl is partnering with Mercedes-Benz for London Fashion Week S/S 2012 commencing tomorrow.

This will be the fourth season LLG has worked with Mercedes-Benz to bring fashion-lovers even more news, photographs, interviews and exclusive footage from inside London Fashion Week. Sasha has already started filming, blogging and tweeting on the official Mercedes-Benz VOICES OF FASHION platform.

Sasha has also taken over the @MercedesLFW Twitter feed to keep followers updated with breaking LFW news and insider commentary, as well as interviewing London's top designers in their studios as they prepared for their catwalk shows.

When London Fashion week really gets underway tomorrow, Sasha will be blogging twice daily show reports over at the VOICES OF FASHION blogsite, filming backstage at the shows with the MercedesLFW film crew, and interviewing the most exciting front row faces for their take on London Fashion Week.


To keep up to date with everything at London Fashion Week:
Twitter: @MercedesLFW
Blog: www.voicesoffashion.co.uk
YouTube: MercedesFashion