Theatre, Film and TV
TV Yule Love this Christmas
Dec 21, 2011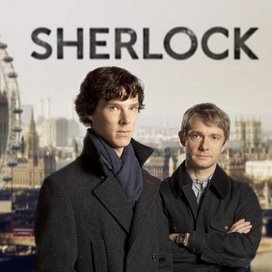 This year's Christmas and New Year television schedules are full of festive delights, including....
Sherlock which returns to BBC1 on New Years Day starting with A Scandal in Belgravia, directed by Paul McGuigan - the first of three new Sherlock Adventures - concluding with The Reichenbach Fall directed by Toby Haynes. Starring Benedict Cumberbatch and Martin Freeman Sherlock begins on January 1st at 8:10pm on BBC1.
Comedy pilot Felix and Murdo, directed by Christine Gernon, airs on Wednesday 28th December at 10:35pm on Channel 4. Set in 1908, when the Olympics first came to London, eponymous characters Murdo (Alexander Armstrong) and Felix (Ben Miller) indulge in a spree of drink and drugs whilst simultaneously competing in the Olympics with no training whatsoever.
Jack Whitehall's 'Little Cracker', co-written by Freddy Syborn, will air on Sunday 25th December at 11:30pm on Sky 1. In Daddy's Little Princess, Jack explores his relationship with his father. We meet a 10-year old Jack with a penchant for dressing up as his favourite heroines, including the Pink Power Ranger and Princess Diana.
There is also Oliver Lansley's 'Little Cracker' which was co-written with Alan Davies, who also stars in it. The Curious Incident of the Dog in the Day Time airs on Tuesday 20th December at 9pm on Sky 1. It is based on the true story of how Alan was taken to court under the Dangerous Dogs Act following an incident with his next door neighbour's dog.
Fast Freddie The Widow and Me produced by Madonna Baptiste and starring Laurence Fox will air on Tuesday 27th December at 9:00pm on ITV1. Fox plays a wealthy car dealer who knows the price of everything and the value of nothing. When sent on a community service order to the Moonbeam club, a youth organisation for behavioural difficulties, he is soon forced to address his preconceptions.