Actors
Adrian Scarborough and Blake Ritson return to Upstairs Downstairs
Feb 17, 2012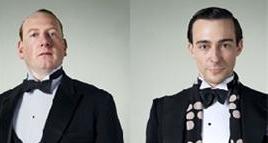 Adrian Scarborough reprises his downstairs role as the fastidious butler Mr Pritchard while Blake Ritson returns upstairs as the Duke of Kent, a regular visitor at 165 Eaton Place, as Upstairs Downstairs returns to BBC One for a second series.
Selina Cadell also features in the new series as Lady Malcolm.
It is now September 1938 and as Lady Agnes returns to the house, frail from the birth of her first child, the staff downstairs welcome a new maid and new chapter into the life of the entire household.
The hugely anticipated revival of the original ITV 1970s drama first hit our screens in 2011. Initially a three-part Christmas mini-series, record-breaking audience figures ensured Upstairs Downstairs makes its return as a six-part series.

The first episode broadcasts on Sunday 19th February on BBC One at 9.30pm.