Books | May 29, 2020
Utopia Avenue receives stellar pre-publication reviews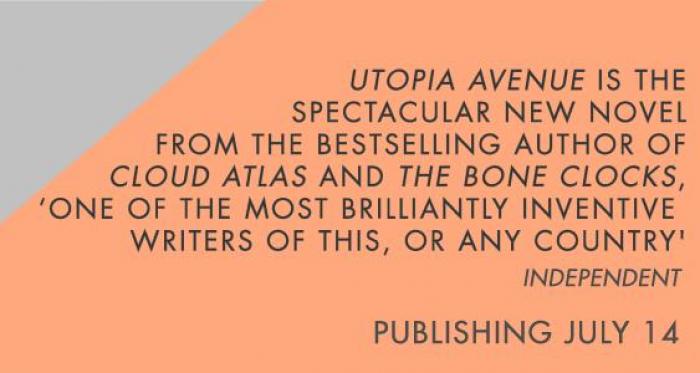 David Mitchell's Utopia Avenue hits shelves July 14th 2020. It's been nearly five years since David Mitchell's previous title Slade House was released and Utopia Avenue one of the most anticipated novels of 2020.
Critics and early readers have been effusive in their praise:
'Metafiction master Michell's readers can be excused if they greet a new novel by this unalloyed genius with both goose-pimply anticipation and trepidation over meeting the challenge. Not to worry. Utopia Avenue, while leaving behind neither the complexity nor genre-bending pyrotechnics of The Bone Clocks (2014), is by far the most accessible of Michell's broad-canvas novels. Michell masterfully builds each of the four [band members] into top-of-the-marquee characters…
Michell continues to use the rhythms of surface reality to dig much deeper, but
without ever losing the beat.' --Booklist, Starred Review
'Given how David Michell loves sweeping, fantastical and self-mythologizing
narratives (as in his previous novels, Cloud Atlas and The Bone Clocks), it's
fitting that he would turn to psychedelic rock for source material. Utopia
Avenue stretches nearly 600 pages to tell the rise and fall of a 60's British
Rock Band of the same name – covering, in Michellian fashion, a blend of drugs,
truth, ego and schizophrenia' –- Time
'Enchanting, boisterous, and thoroughly enjoyable… Utopia Avenue
is the magical, musical escape we desperately need.' –- Daily Beast
'For his first novel in five years, the author explores the
universal language of music… it's Daily Jones & the Six on acid' –- Entertainment Weekly
'Noted novelist Mitchell returns with a gritty, richly detailed fable from rock's golden age… Those whose musical tastes end in the early 1970s—and literary tastes are up to the minute—will especially enjoy Mitchell's yarn.' –- Kirkus

David Mitchell is the author of eight novels including Ghostwritten, Cloud Atlas and The Thousand Autumns of Jacob de Zoet. He has won the John Llewellyn Rhys, Geoffrey Faber Memorial and South Bank Show Literature Prizes, and been shortlisted twice for the Booker Prize.