Theatre, Film and TV
Watson and Oliver starts on BBC2
Feb 20, 2012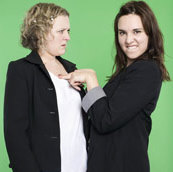 Watson and Oliver, directed by Richard Boden, script edited by Kevin Cecil with sketch contributions from Adam Kay and James Farrell, starts on Monday 20th February on BBC2 at 10pm.
The BBC's latest sketch show, which also stars Adrian Scarborough and Bob Golding, is filmed in front of a live audience and stars Lorna Watson and Ingrid Oliver as characters such as Georgian heroines, the denizens of a greasy-spoon cafe and a newly married couple called Wills and Kate.
The comedy duo are well known on the comedy circuit and have been a sell out success at the last three Edinburgh Festivals.
'Hugely enjoyable new sketch show' Gerard O'Donovan, The Telegraph
'there is warmth here and a precision in Watson and Oliver's performances' Alex Hardy, The Times