Theatre, Film and TV | Dec 19, 2018
What To Watch Over Christmas & New Year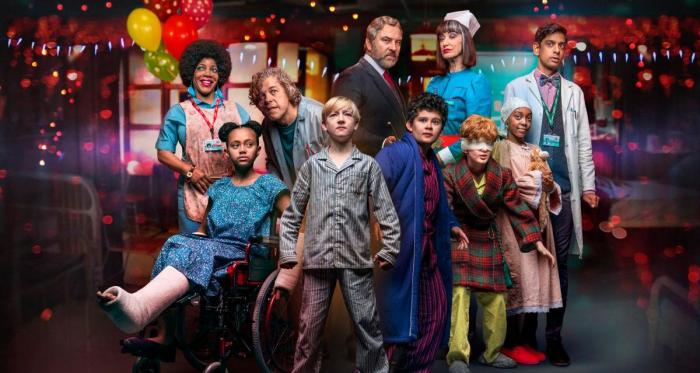 Trollied, returns to Sky One on Sunday 23rd December at 9pm for it's final Christmas special, starring Chanel Cresswell as Katie and Jessie Cave as Heather.

Brand new sitcom King Gary starts on BBC One on Sunday 23rd December at 9:30pm. Laura Checkley stars as Heidi King and Miranda Hennessy stars as Chloe Ferdinando. The pilot was produced by Rupert Majendie.
The Queen and I, written by Stephen Russell, will be shown on Christmas Eve at 6pm on Sky One. Adapted from the much loved novel by Sue Townsend, this comedy drama follows the altered lifestyle of the Royal Family after they are stripped of their title when Britain is made a Republic. Dan Zeff directs a cast featuring Samantha Bond, David Walliams and Jonny Vegas.

You can see Asim Chaudhry in Click and Collect, on BBC One on Christmas Eve at 9pm. A race against time for one man, played by Stephen Merchant, desperately trying to get the must-have gift of the year for his daughter, joined by his well-meaning but annoying neighbour, Chaudhry. He also can be seen in Happy New Year, Colin Burstead on BBC Two on the 30th December at 10:30pm. A dark comedy about a family brought together for New Years Eve, directed by Ben Wheatley.
Call the Midwife returns for their annual Christmas Special on Christmas Day on BBC One at 7:45pm starring Helen George as Nurse Trixie.
The Christmas Special of Upstart Crow, starring Liza Tarbuck as Anne Hathaway will air on Christmas Day at 8:35pm on BBC Two.
Midnight Gang, adapted by Kevin Cecil from the book by David Walliams will air at 7.30pm Boxing Day on BBC One. This family comedy adventure follows Tom and the magical journey he finds himself on within the miserable realms of St Hugo's Hospital children's ward. Mark Heap stars as Sir Quentin Strillers.
Selection Day, adapted by Marston Bloom, launches worldwide on Netflix 28th December. Based on the book of the same title by Aravind Adiga, the series is produced by Anand Tucker's company Seven Stories.

Liza Tarbuck hosts the brand new gameshow Celebrity Game Night on Saturday 29th December at 9pm on Channel 5. Teams of celebrities including Frankie Bridge compete in a series of rounds involving some classic family favourite games.
Stewart Lee is bringing his critically acclaimed stand up show to the screen for a second time. Content Provider is on BBC Two on Saturday 29th December at 11.55pm.
Doctor Who returns for its New Year's Day special on BBC One at 7pm, starring Bradley Walsh as Graham O'Brien and Tosin Cole as Ryan Sinclair.
Bradley Walsh and Barney Walsh take to the screen in Breaking Dad a new series that sees them travel around America, however they each have a very different idea of what constitutes a good time. See what happens on ITV on January 2nd at 8pm. For more Bradley Walsh, you can catch him hosting When Dummies Took Over the World on Saturday 28th December on Channel 5 at 9pm.

Island of Dreams, written by Bert Tyler-Moore and George Jeffrie will air on BBC Two on the 3rd January at 10pm. A satirically cheeky comedy about Richard Branson's private island and all it's celebrity guests.
Series 5 of Cuckoo, written by Robin French and Kieron Quirke and directed by Ben Gregor will air on BBC One on Friday 4th January and the whole series will be available to watch on iPlayer from that date. More hilarious escapades ensue with the Thompson family.